14 Creative Handmade Ways To Reuse Empty Tin Can: Part 1
On daily basis, Tin and aluminum cans are one of the many things that we use and dispose of.
So don't you think coming up with various easy and cheap DIY tin recycling ideas will help to save precious natural resources and energy?
Well, you don't have to put those extra efforts to send these empty tin cans to recycling center.
You can consider making some fun and creative handmade tin projects and crafts instead.
In today's article we have selected very easy and creative 14 DIY Tin crafts ideas for you.
As always we wish you happy crafting and cheers!!
1.) These DIY Cheap Tan Can Hang Bouquets will definitely attract everybody's attention 
mydiychat.com
2.) Make this homemade wine rack from empty tin cans
blog.michellekaufmann.com
3.)
DIY Vase, Toothbrush Holder, and many more from empty tin can
dezeen
4.) Cute mini tin robots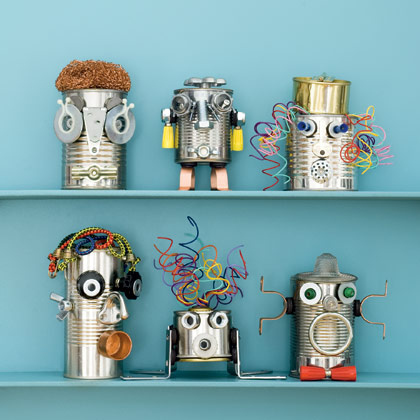 familyfun.go.com
5.) Make this creative pen stand box for your office
Check out the full DIY tutorial HERE
6.) This very unique Beer Holder
cdn.hiconsumption.com
7.) Can-dle Lanterns for garden
Check out the full DIY tutorial HERE
8.) Very inexpensive handmade pendent lights from empty tin can
shelterness.com
9.) This very useful art supply caddy
cynthiashaffer.typepad.com
10.) Very handy and quick Sideways Storage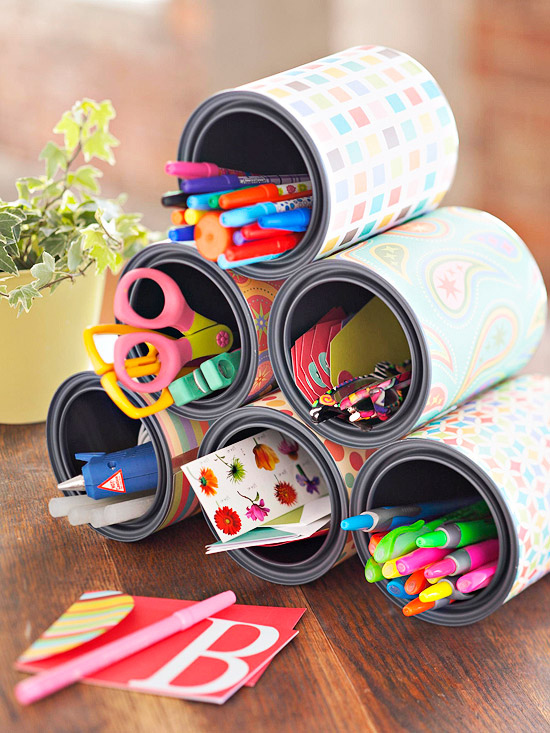 creativecollectiveblog.com
11.) Tin can wall calendar
skiptomylou.org
12.) And this Mini Bongo
Check out the full DIY tutorial HERE
13.) Aren't these DIY Stamp Can Containers adorable?
p2.storage.canalblog.com
14.) Now rethink before throwing out your crushed cans.
loveofthesea.com
(Via: buzzfeed )
Remember when next time you cook up a can of beans or use a can of coconut milk for some curry, DO NOT toss that can in the recycle bin!
Rather forward it to dishwasher, and try out some of these DIY tin can crafts ideas!
Share these very useful DIY  tin can reuse projects with your friends. Happy crafting 🙂