24 Last Minute DIY Gifts Ideas For Valentines Days
Instead, you could order everything online … or, you could go the DIY route.
Whether it's a birthday or an anniversary, there always seems to be a gift-giving occasion around the corner.
Now valentines days, This time around, don't settle for store-bought gifts when you can give your loved ones these one-of-a-kind DIY presents.
Making your presents yourself really reflects how special the receiver is to you because of the time, effort, and love spent on these gifts.
A homemade gift is always better than something you can buy at the store!
Especially for someone who has everything or is hard to buy for. Even if it's something as simple as personalizing a coffee mug, monogramming a casserole dish, or making a fun candy bouquet! Most of these DIY gift ideas are relatively easy and can be done last minute
It is never too early to get started on creating some lovely and inexpensive gifts for your friends and family that they are going to LOVE!
Check these diy gift ideas for valentines days.
You can guarantee that anyone would be happy to receive one or more gifts from this fun collection. We will be sharing one more geared towards men later.
Be sure to click on the link to visit the original source for more photos and the full tutorials.
As always, if you enjoyed this, please SHARE it, PIN it, and spread the word. Thank you so much!
1.) DIY Leather Heart Coin Purse
Check out the full DIY tutorial HERE
2.) Ice Cream Cone Rose
thecakebar.tumblr.com
3.) Morse Code Necklace
Check out the full DIY tutorial HERE
4.) "I Love You a Latte" Label
Check out the full DIY tutorial HERE
5.)
Check out the full DIY tutorial HERE
6.)
Check out the full DIY tutorial HERE
7.) Literal Heart Attack
Check out the full DIY tutorial HERE
8.) Loving Deck of Cards
Check out the full DIY tutorial HERE
9.) Deck Out Their Room in String Lights
Check out the full DIY tutorial HERE
10.) DIY Ruler Covers
thompsonandspring.com
11.) Booze Bouquet
Check out the full DIY tutorial HERE
12.)  Booze Bouquet
Check out the full DIY tutorial HERE
13.) Wire Heart and Arrow Ring
Check out the full DIY tutorial HERE
14.) "I Love You Because" Frame
Check out the full DIY tutorial HERE
15.) Felt Coffee-Cup Sleeves
Check out the full DIY tutorial HERE
16.) The Breakfast-in-Bed Kit
Check out the full DIY tutorial HERE
17.) Nuts About You Cufflinks
Check out the full DIY tutorial runwaydiy.com
18.) Bouquet of Pom-Pom Flowers
Check out the full DIY tutorial HERE
19.) "Feel Better Soon" Kit
Check out the full DIY tutorial HERE
20.) Wedding Wine Labels
justaddgingerp.com
21.) Wedding Wine Labels
Check out the full DIY tutorial HERE
22.) Sharpie Mug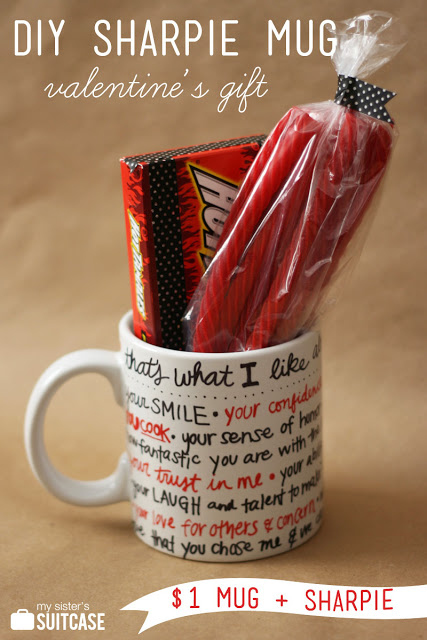 Check out the full DIY tutorial HERE
23.) "You Light Up My Life" Matchbox
Check out the full DIY tutorial HERE
24.) Dressed-Up Six-Pack
Check out the full DIY tutorial HERE
You May Also Like: