25 Adorable and Creative DIY Gift Wrap Ideas for All Occasions.
As the Holiday Season is started

, you must have already brought the perfect gift for your friends and family.
To make your gifts more attractive don't forget the importance of gift wrapping.
Its very common to go for easily available gift bags and wrapping paper.
But if you want to bring a smile on your love ones then you should think about adding a personal touch by using DIY Creative Gift Wrapping ideas.
These cute gift packing ideas will make boring gift bags, paper into something else.
You don't even need expensive material for this and anyone would be happy to receive one or more gifts from your fun collection.
Make you gift beautiful from inside and outside. Wrap it up! Cheers!!
1.) DIY Gift Wrapping Using Fabric (aka an old shirt)
Via evermine.com
2.) Hand-print Fabric for Gift Wrap
Find out how here.
3.) DIY Eco Friendly Packaging With Plastic Bottles Boxes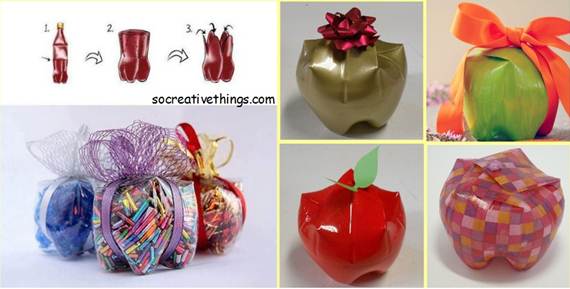 Source
4.) DIY Gift Wrapping: 3d Paper Christmas Tree
DIY Tutorial
5.) DIY Creative Gift Wrapping With Paper butterflies and Pretty Bows
DIY Tutorial
6.) Decorate Your Odd Shape Gift With A Paper Bag
Via thechicsite.com
7.) DIY Creative Gift Wrapping Idea With Paper
willowday.com
8.) DIY  Flower Toppers with Cupcake Liners
9.) Diy Eco Friendly Packaging:  Plastic Bottles as Baskets
Source
10.) DIY Gift Packing with A Measuring Tape and Plain Brown Paper Bag
decor8blog.com
11.) DIY Paper Flowers for Present Wrapping
Tutorial
11.) Diy Eco Friendly Packaging: Pringles Cans
Source
12.) DIY Present Packing With Cupcake Wrappers
Tutorial
13.) DIY Gift Wrapping Like a Suit and Tie
Source
14.) Eco Friendly Packing Ideas: Toilet Paper Rolls
Source
15.) Turn a Paper Cup into Cute Gift Box
Gedane.over-blog
16.) Diy Eco Friendly Packaging:Vegetable Plastic Boxes
Source
17.) DIY Gift Wrapping with Chalkboard Art Paper
Tutorial
18.) DIY Adorable Christmas gift wrapping: Reindeer bag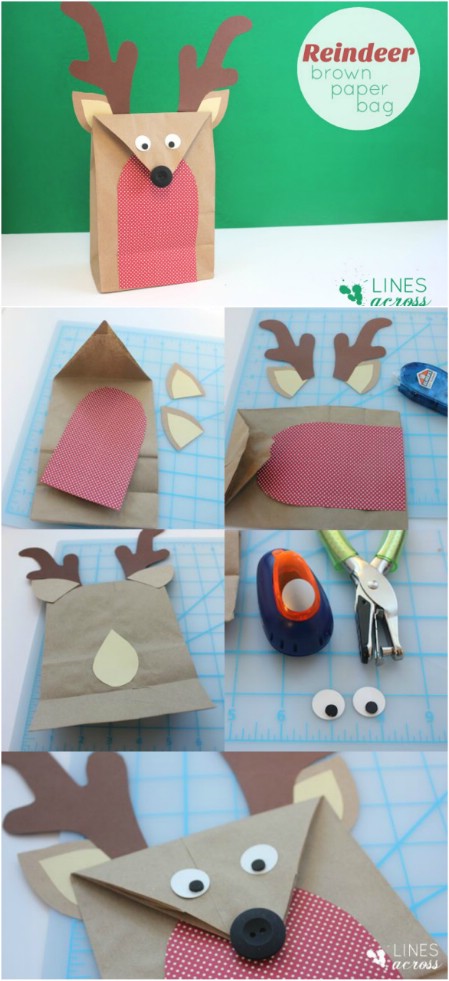 DIY Tutorial
19.) DIY Creative Gift Wrapping: Confetti Dipped Presents
Tutorial
20.) DIY Gift Wrapping with Polka Dot Gift Paper
Tutorial
21.) DIY Gift Packing With A Shirt
Tutorial
22.) DIY Origami Pyramid Gift Boxes

DIY Gift Box Tutorial
This would be best DIY wrapping for small gifts.
23.) Make it Colorful and Use Textures
DIY Gift Wrapping Tutorial
24.) Dress Up a Gift Pouch with Fabric Tags
Tutorial
25.) Dip a Box or Gift Bag in Confetti
Tokketok
One you are done with gift wrapping, cover one end in double-stick tape and dip it in confetti. You can do the same with Glitter too.
Isn't that cool? If you don't settle for the usual wrapping paper and use thses DIY gift wrapping ideas then you can make an ordinary gift extraordinary.
Show these gift wrap ideas with your friends. Enjoy!!