10 Super Cool and Easy To Try DIY Flip Flops Ideas
In Summer there in nothing more joyful and comfortable than a simple flip flop, short DIY jeans and a handmade popsicle in hand.
What else you want in life? Today to get more D.I.Y. inspiration, we have collected a wonderful collection of diy flip flops.
These handmade flip flops are something simple, creative, comfortable and very inexpensive for you.
These projects require very little to no sewing skills.
Prepare a pair of inexpensive flip flops, some scraps of your favorite fabric and a glue gun to protect your construction.
Literally you can stick any attractive thing on your flip flop.
Just stay here and have a look ! Enjoy!
1.) Lovely DIY Coral Flip-Flop Idea with Paillettes 
image via www.trinketsinbloom.com
2.) Another Amazing DIY Idea to Give a New Look to Your Old Flip-Flops
image via www.trinketsinbloom.com
3.) Easy and Quick Braided Fabric Idea to Try at Home 
image via www.mycraftilyeverafter.com
4.) Cute Crochet Flip-Flop Idea 
image via www.petalstopicots.com
5.) Runway Inspired Idea to Create at Home 
image via diy-enthusiasts.com
6.) Easy to Make DIY Project with a Piece of Fabric 
image via indulgy.com
7.) Luxurious Flip-Flops with Pearls
image via www.buzzfeed.com
8.) Accessorize Your Plain Flip-Flops in a Few Steps
image via www.icreativeideas.com
9.) Interesting and Fun Diy Project with Balloons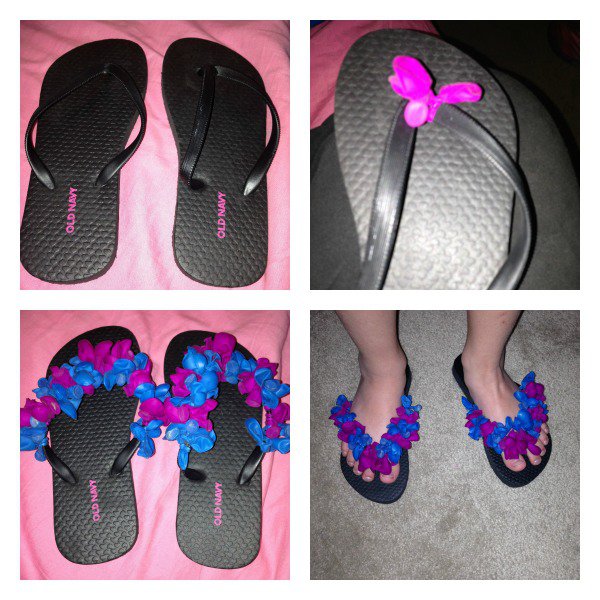 image via goddessinthehouse.com
10.) Gorgeous Pink Flip-Flops with Pearls 
image via www.bloglovin.com
(Via: fashiondivadesign )
Before you dare to bare your naked feet this season, we suggest that you give one or two of these DIY flip flops a try.
Follow us and get in touch with the latest fashions!
For more DIY SHOE MAKEOVER ideas like these keep on visiting Sad To Happy Project.
You May Also Like: