I think, best meals are supposed to be served in nice plates. Do you agree with me? But let me tell, you do not need go and buy these plates everytime you need it. It will put a nice hole in your wallet. So today I have collected these wonderful and classy DIY decorative plates ideas which you can easily implement at home.
Almost all these projects are cheap and some need few colors of your choice. And on top of it, these DIY plate projects are so easy to make. Anyone can recreate it. Already excited to check these ideas? Follow the links after each diy for step by step instructions.
Now without wasting any more time lets get started.
1. DIY Swan Appetizer Plates
These beautiful swan appetizer plates! This is such a genius idea! Oh my god, I wish to make it right now. These DIY decorative plates are gorgeous and are perfect for birthday or lunch parties. A best meal has to be served in nice plates. Do you agree? Would you like to try this one? Source/ Tutorial: akailochiclife
2. Easy DIY Decorative Fall Plates
DIY fall decor projects are popular. You can't find a simpler way to spruce up your home than with these DIY Decorative Fall Plates. You will love how easy they are to make with autumn-themed window clings. So follow this DIY project for further How to instructions. Source/Tutorial: premeditatedleftovers
3. DIY Abstract Tableware
If you have some white ceramic plates at home then think of making it more beautiful by painting it with loose brushstroke effect. There is no particular design just start painting the way you want. How cool is that? Source/Tutorial: burkatron
4. These 15 Minute DIY Porcelain Plates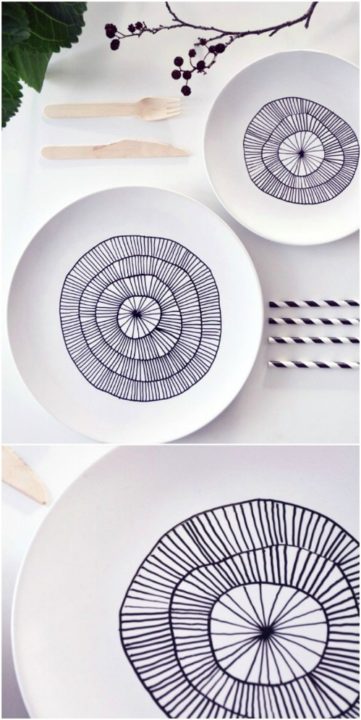 Here's a simple DIY using just two ingredients… a porcelain pen and a plain white plate. You could try out any design you want as there's no particular drawing skill needed to recreate it. The key is to keep it simple and classy. Are you excited to create this DIY Decorative plates project? Source/Tutorial: blog.decoratorsnotebook.co.uk
5. Easy DIY Decorative Christmas Plates
In Christmas if you are looking for some money saving DIYs, then this homemade plate decoration project is for you guys. I really like the polka dot design. Trust me these DIY decorative plates are very easy to make. Just draw polka dots on the edges of your plates. And you are done 🙂 Raise your hand if you are going to try this idea in this festival season. Source/Tutorial: simplykierste
6. DIY Decorative Marble Plates
If you decide to buy this full set of real marble plates then it may not always fit in your budget? But dont worry this DIY plate decoration project will teach you how to create it at home. The DIY version is very cheaper. Very useful for serving holiday or wedding meals. I love its classy look. Give it a try guys and enjoy.  Source/Tutorial: sugarandcloth
7. Anthropologie Inspired Hand Painted Plate Set
Have your meals in this very easy to make decorative dishes. The floral look is nice and you can further customized it the way you want. Follow this tutorial for more details. Source/Tutorial: abeautifulmess
8. DIY IT – ABSTRACT ART HEXAGON PLATES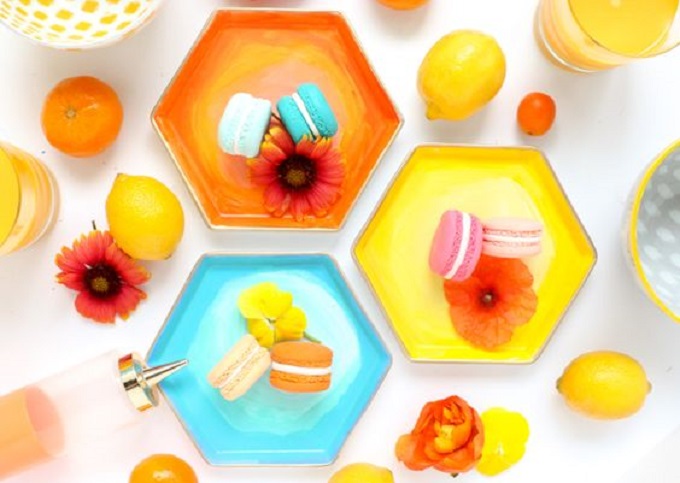 These colorful hexagon DIY dinner plates look amazingly colorful. Do you agree with me?If you like to recreate it at home then follow this DIY project for further How to instructions. Source/Tutorial: akailochiclife
9. Easy DIY Sharpie Plate
To make these DIY plates, you hardly need any supplies and time. You can make it in no time. You can make any design on your plates. Anyone can make it. They are very easy to make and you will love the final output. Source/Tutorial: emma-courtney
10. Simple DIY Painted Plates
All you need is some painters tape and paint and you have the magic ingredients to your new fabulous dinnerware! But who needs perfect plates, when you can paint over just-ok-plates! And turn them into pretty cute mix and match dinnerware! If you like this DIY plate idea then follow this tutorial for more details.  Source/Tutorial: lanaredstudio
11. Cheap $1 Decorative Christmas Plates
I have already saved this idea so that I can try it in this Christmas. What about you? Do you like to recreate these beautiful reindeer look on your plates? Dont worry if you are not good at drawing, you can make ready made reindeer template to make these decorative plates at home. Source/Tutorial: downhomeinspiration
12. DIY STATEMENT PRINTED PLATES
This is such a genius idea to make DIY statement printed plates from retro fabric prints. The beauty of these pretty little plates is that they require almost no artistic ability. So follow this DIY project for further How to instructions. Source/Tutorial: sugarandcloth
I hope you will try atleast one of these amazing DIY Decorative Plates Ideas. Wishing you an amazing happy crafting time 🙂
Thats all for today guys, I hope you had an amazing time here. Do visit our website again for more DIY crafts ideas. Meantime you can connect with us on  Pinterest and Facebook.
Pin This Collection of DIY Decorative Plates Projects for your reference.