12 Top DIY Crafts To Make Using Old Magazines and Newspapers
Raise your hand if you're a magazine lover who has hundreds of old magazines laying around your house without any idea about what to do with it. I used to keep all my favorite old magazines in my drawer which I dont do anymore. But if you are looking for great DIY ways to reuse old magazines into something useful then you are on the right page buddy.
I know it may be difficult for you to simply throw away your favorite old magazines but with these amazing DIY Reuse Old Magzine projects, you can turn your old magazine into something surprisingly useful. That way your favorite magazines will still stay with you, just in another form.
I am sure you will not be able to resist yourself from making at one of the below DIY crafts. Follow the links after each diy for step by step instructions. Lets get crafty guys. Have a great time 🙂
1. Recycled Magazine Page Mirror
This beautiful sunburst mirror is made by reusing old magazine pages. All you need to do is roll a lot of magazine pages. You can make a big or small mirror as per your wish. This is a great way to decorate your room wall. Tutorial/Source: greenyourdecor
2. Magazine Page Ceramic Tiles
How exciting it sounds to create your own ceramic tiles using old magazine pages? I have been seeing these kind of custom tiles all over internet. Whether you're looking to create a modular piece of wall art, a set of coasters, playful Instagram-ish magnets, or a creative kitchen backsplash, ceramic tiles are there for you. These are so easy and you can use different magnetize or newspaper pages with different colorful pictures and designs. All you have to do is attach the magazine page pictures to plain ceramic tile using Mod Podge and you are done. How cool is that! Tutorial/Source: brit
3. DIY Magazine Notebook
I love to have notebooks in my purse. Yes, it sounds old school. But I like it. If you are like me then this little mini magazine notebook is perfect for keeping in your purse or giving out as a gift. To start of just fold papers in half, whatever size you wish, and later sew them together with yarn or thread. Then create your covers from the pages of your magazines and thats it. The perfect little notebook is ready. You can create as many DIY notebook as you wish by reusing old magazines. They are so cheap and adorable. Tutorial/Source: abeautifulmess
4. Repurposed Magazine Bracelet
Now reuse old magazines to make those beautiful bracelets for yourself or your love ones. Its a pretty easy DIY project to complete. It can be an adorable DIY gift to present someone. Likewise you can make a ring, necklace or just about any piece of jewelry that you wish. Just use your crafty mind and new ideas will flow 🙂  Tutorial/Source: savedbylovecreations
5. Upcycled Magazine Wreath
If you're anything like me, you've got a stack (or several) of magazines that you really have no use for anymore, but you just can't bring yourself to throw them out. If you happen to see yourself in this kind of situation then check this great DIY way to reuse old magazine to make this wonderful wreath. Tutorial/Source: addicted2decorating
6. Magazine Page Embellished Bobby Pin
Now how about reusing old magazine pages to embellish your bobby pins and give your hair a new look. Paper beads are easy and inexpensive to make. Use some old magazine or catalog scraps and you have an eco friendly craft. Place the bead on an ordinary bobby pin and you can add some fun and flair to your hair. Follow the step by step tutorial for more details. Tutorial/Source: instructables
7. Repurposed Magazine Page Dish
Hard to believe beautiful dish and its lid are both made from magazine pages. If you are looking for that unique, beautiful handmade gift that will make a big splash without breaking your bank account, then look no further. Coiled magazine page craft projects are the way to go. This little container with adorable lid costs nothing but your time, a stack of old magazines and some Mod Podge. Grab your glue gun and start coiling. The trick is in the coiling the magazine papers. When you finish it,you are going to absolutely ador the final product.  Tutorial/Source: savedbylovecreations
8. Try making these simple and unique gift bows
Paper bags, old newspapers, fabric scraps.. you're probably already using them for eco-friendly gift wrap. But did you know you could create beautiful bows from the pages of our magazine? All you need is papers and some double-sided tape. Stick these super simple bow to any gift to make it more unique and personal! Source/Tutorial: wholeliving
9. Upcycled Magazine Gift Bags
Its a great money saving DIY project and very useful in festival season. Turn your old magazines pages into gift bags. Gift bags aren't that expensive, but if you have to purchase in bulk then this DIY recycle old magazine project will help you to save a lot of money. I dont need to tell that, you can further customize your gift bag to make your gift look extra special. Tutorial/Source: lifewithcrazyrachel
10. Upcycled Magazine Trash Can
Now this is something very interesting. This is a very unique way to reuse old magazine pages. I think it will be a fun to DIY it and at the same time it will take an hour or so to finish. It's perfect for a bathroom or a kid's bedroom. While making it for your little one bedroom, you can make it more attractive by reusing cartoon magazine.  Tutorial/Source: replayground
11. Try making beads and putting together an awesome bracelet!
If you are still trying to find something to do with old magazine then give this project a try. Paper beads are trendy these days. They are so easy can be made into anything: bracelets, necklaces, key chains. You can make whatever your magazine-loving heart can think of. Source/ Tutorial: familymaven.io
12. Upcycled Magazine Page Picture Frame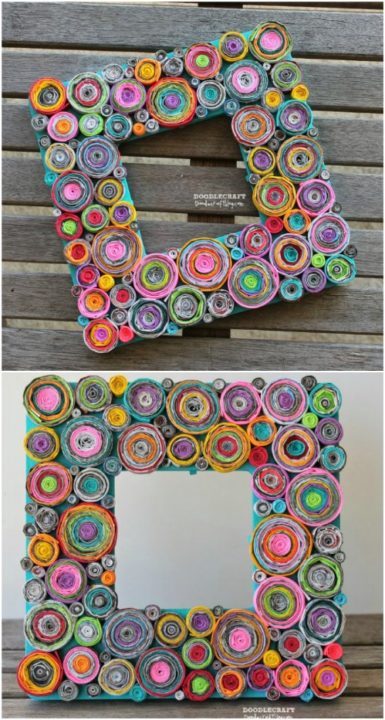 Rolled Paper Frame using used magazine pages. This frame is visually stunning with lots of texture and pops of color! However let me be honest, its a time consuming project. But the time is worth when you see the final outcome. This is a great DIY frame to showcase your favorite pictures. Tutorial/Source: doodlecraftblog
How many of these amazing ideas do you think you'll attempt this year? I hope you will try atleast one of these amazing DIY repurposing craft ideas using old magazines. Wishing you an amazing happy crafting time 🙂
Thats all for today guys, I hope you had an amazing time here. Do visit our website again for more DIY crafts ideas. Meantime you can connect with us on Pinterest and Facebook.
Pin This Collection of DIY Old Magazine Reuse Ideas for your reference.