61 Easy and In Budget DIY Christmas Decoration Ideas: Part III
Seems everyone is getting into party mood. Common its Christmas, we all know the feeling.
There still is so much to do. You have to think about cooking recipes, Christmas dinning table theme, shopping, gift wrapping, cards to write and the tree to decorate, OMG. The list won't stop.
Planning dinner for the family and throwing cocktail parties for friends, hosting can be overwhelming.
But how can you forget about the decoration part. There are many creative festive decor ideas in which you can involve your entire family and you all will enjoy it together.
We have a cool collection of affordable last minute homemade Christmas decorations ideas.
Make your season both merry and bright with these clever handmade ornaments, centerpieces, and other craft ideas. Cheers!!
1.) Glittered Christmas Light Bulbs
Tutorial    Source
2.) Reindeer feet cute craft for little ones
Source
3.) Simple Filled and Painted Ornaments
Tutorial
4.) Recycled CD Mosaic Ornaments
Tutorial
5.) DIY Hot Air Balloon Ornaments
6.) DIY Christmas Tree Ornaments Made Out Of Old Computer Memory Chips
Tutorial
7.) Cute Santa Hats
Tutorial
8.) Rustic Snowflake
Tutorial
9.) Stemware Snow Globe
Tutorial
10.) Christmas Tree Mobile Consisting Of Suspended Bulb Ornaments
Tutorial
11.) Santa Hat Chair Covers
Tutorial
12.) Ice Cream Ornaments
www.linesacross.com
13.) Pastel-Colored Trees Made Out of Pasta
Source
14.) Cheap Straws Into Beautiful Gold Ornaments
Tutorial
15.) Santa silverware holder
Source
16.) Yarn Ball Wreath
Tutorial
17.) Delightful tea cup Christmas ornament
Source
18.) DIY Christmas Tree made from Books
familysponge.com
19.) How to make Waterless Snow Globes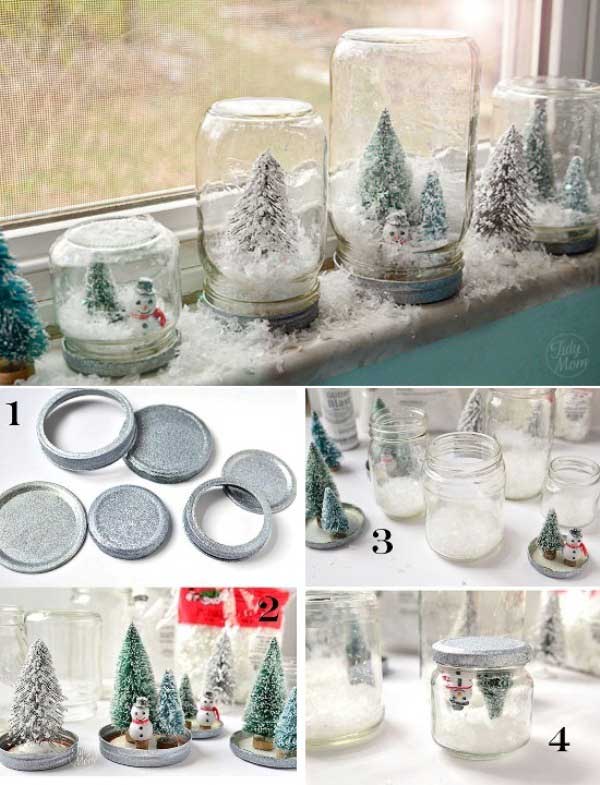 Tutorial
20.) Bottle Cap Snowman Ornaments
Tutorial
21.) Christmas tree&ornaments made from wine corks
Source
22.) DIY Lamp
Source
23.) Tissue Paper Christmas Tree
Tutorial
24.) Ornaments in a shadowbox
Source
25.) DIY Glitter Vase
asmomseesit.com
26.) Jingle Bell Stockings
Source
27.) Plastic Cup Snowman Craft
Source  &  Tutorial
28.) Snowman hand-painted wine bottle with lights inside
Source
29.) Popsicle Stick Snowflake Wall Decor
Source
30.) Interesting Rudolph made from old puzzle pieces
Tutorial
31.) DIY Paper Christmas Tree
32.) Minimalist Ladder Christmas Tree
33.) Plastic Bottles Into Snowflake Ornaments
34.) DIY Christmas Ball Ornaments
Source
35.) Easy paper ice cream ornaments
Source
36.) Fruit Christmas Tree
Source
37.) DIY Country Ornament
trinketsinbloom.com
38.) Epsom salt/gold spray paint DIY christmas wine bottle craft
Source   You can get "How to" inspiration from  1   2
39.) Christmas Tree Made Of Feathers
Source
40.) Christmas tree napkin fold
Tutorial: handimania.com
41.) Cinnamon Stick Tree Ornaments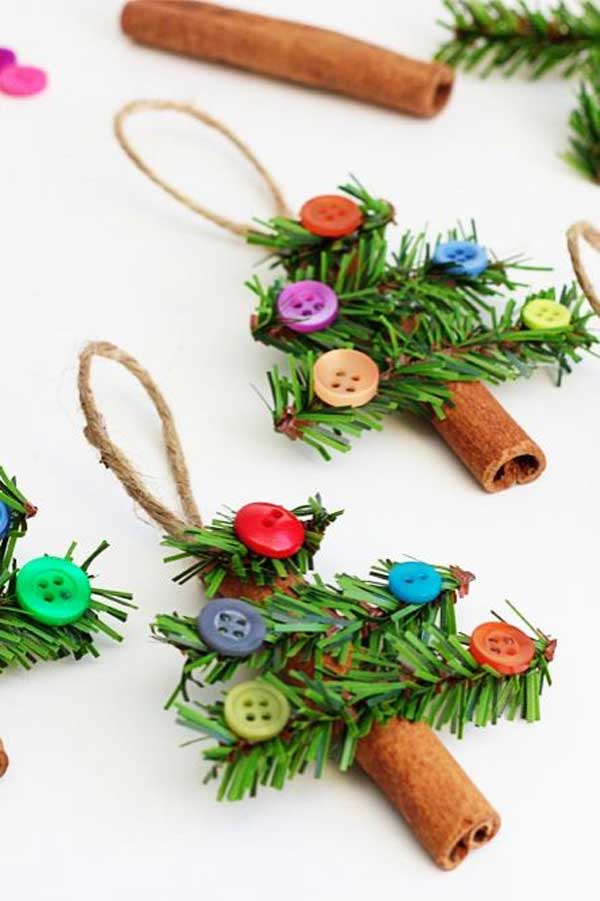 Tutorial: craftsunleashed.com
42.) Candy Cane Centerpiece
Source: myecochicwedding.com
43.) Peppermint Lollipop
Source: discover0.com
44.) Cutlery holder
Source: skinnybitchesinthemaking.blogspot.com
45.) Mason Jar Lid Ornament
Tutorial: craftymorning.com
46.) Snowy Pinecone Candles
Tutorial: craftsbyamanda.com
47.) Christmas tree made out of baby food mason jars
Source: blog.dnevnik.hr
48.) Upcycle a bike wheel into a unique wreath for your front door
Source: blog.rei.com
49.) Glitter Christmas Tree Decorations
Source: diynetwork.com
50.) Candy Cane Name Holders
Source: discover0.com
51.) Homemade Beaded Christmas Tree Ornaments
Source: trueaimeducation.com
52.) A Snowman Table Setting
Source: dukesandduchesses.com
53.) DIY Christmas Garland – use some mini cupcake cases to make some tiny trees
Tutorial: oneperfectdayblog.net
54.) Scrap Wood Stocking Hanger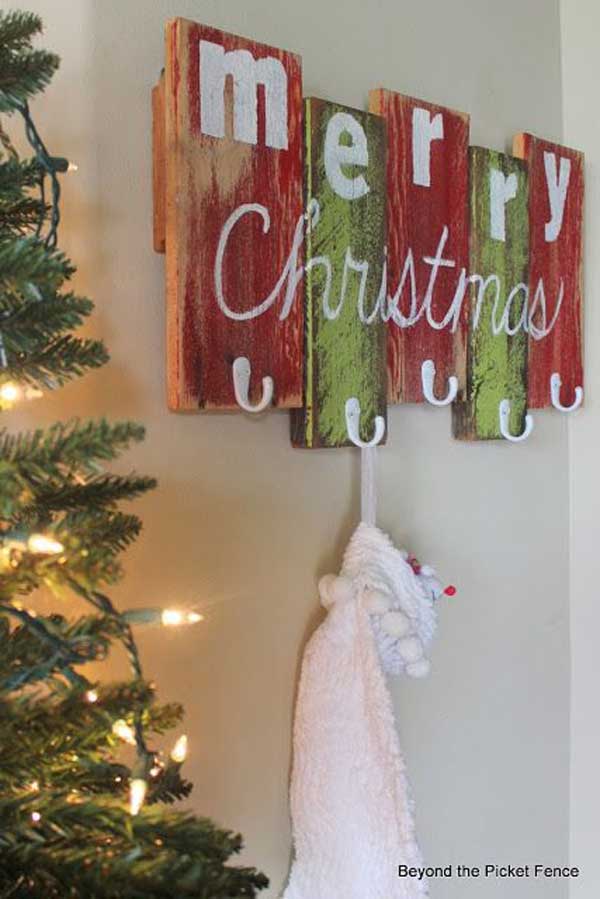 Tutorial: bec4-beyondthepicketfence.blogspot.com
55.) DIY Log Santas
Source: smartgirlsdiy.com
56.) DIY Pallet Christmas Tree
Source
57.) DIY Egg Snowman
Tutorial
58.) Cute Glass Snowmen Candle Holders
Source
59.) Pine cone Christmas ornament
Source
60.) Christmas tree ornaments with pasta
Tutorial: diy-enthusiasts.com
61.) DIY Christmas lollipops ornament
Tutorial
62.) Hand Print Ornaments
Share these creative beautiful DIY Christmas Decoration Ideas with others by clicking on below buttons.