17 Creative DIY Bottle Cap Art and Craft Ideas to Recycle Bottle Caps
There is always a treasure of beautiful handmade crafts to try. So many options are available out there. DIY recycling projects are always cool, especially when you can turn your trash into something new and useful.
We have seen how to reuse old picture frames, old pennies, how to do makeover of your garden.
Now its time to so something else. Let's think about some DIY eco-friendly projects.
So in this post we have collected some of the best ways to upcycle Bottle Caps.
These DIY ideas are in your budget as we are sure you can find someone willing to let bags and bags of bottle caps go for free or for a minimal price.
With bottle caps you can decorate old tables, can make wind chimes, wreath and wall art. Have a look
1.) DIY Bottle Cap Bar Top

lvhb.org
2.) DIY Bottlecap Rings

quietlioncreations.blogspot.com 
3.) DIY Bottlecap Earrings

abeautifulmess.typepad.com
4.) Unique Bottlecap Tray

craftcreateanddecorate.com
5.) Adorable Mini DIY Bottlecap Pies

whimsy-love.com
6.) Simple and Easy DIY Bottlecap Necklace

mygrafico.com 
7.) Bottlecap Organizers in Your Budget

my-creativeway.com
 8.) Easy and Quick DIY Battle Candles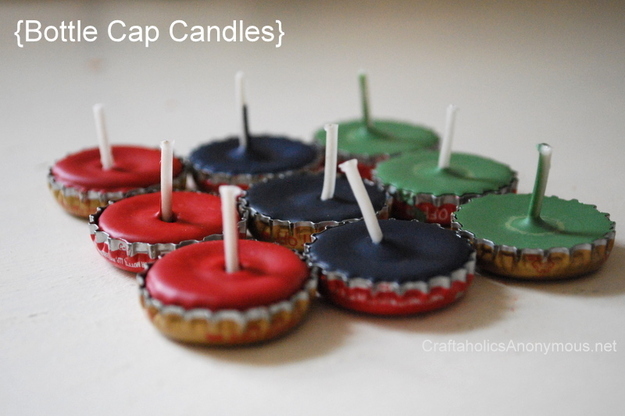 9.) DIY Battle Cap Table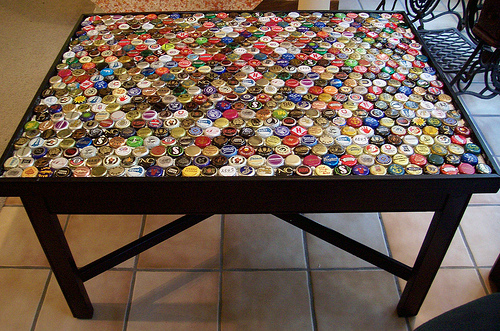 topdreamer.com

topdreamer.com
10.) Bottle Cap Mirror

topdreamer.com

11.) Bottle Cap Chair Makeover

topdreamer.com
12.) Bottle Cap Hangings

topdreamer.com

topdreamer.com
13.) Bottle Cap Wall Art
topdreamer.com


topdreamer.com

14.) Bottlecap Coasters
topdreamer.com
15.) Bottle Cap Showpiece

16.) DIY Bottle Cap Roof Decoration

topdreamer.com
17.) Bottle Cap Wall Mirror

Isn't this fab?  Show your other this creativity by sharing on below buttons.