40 Plus Creative Ways To Reuse Your Old Stuff. It's Totally Brilliant. Part I
If you are thinking to sell or throw away your

used/unused old things

 then you should really think again.  
We all have stuff that no longer serves any purpose around the house, but we still face problems in getting rid of it.
But if you're creative enough, you can solve this problem by repurposing, upcycling and reusing your old things. 
Recycling is discovering new uses for old things. Recycling is a great way to get creative.  You can re-purpose and reuse old things to save money.  
You actually can breathe new life into that old stuff for little to no cost.
So before throwing your next old stuff you should check and re-check these 40 creative  DIY  recycling Ideas. 
1.) Apple Monitor Dog Bed
link
2.) Old Piano Into Outdoor Fountain
(link)
3.) Old Ladder Into Bookshelf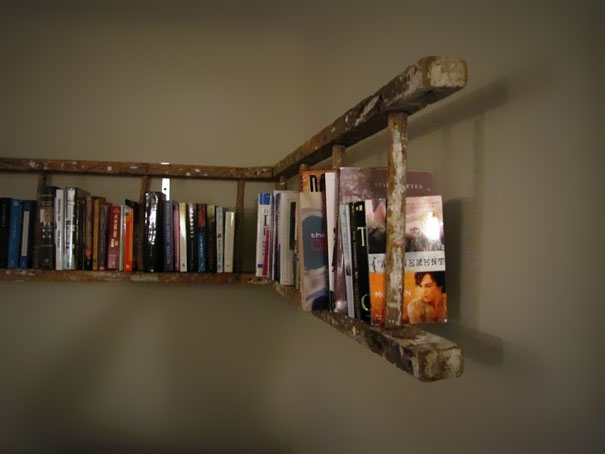 (link)
4.) Bicycle Wheel Frames
link
5.) TP Rolls Into Organizer Box
(link)
6.) Old License Plates turned into Bird Feeders
link
7.) Socks turned into gloves
link
8.) Creative Tshirt Grocery Bags
link
9.) Desk Globes as Chandelier
link
10.) Pop Top Lamp Shade
link
11.) Reused Bottle Candle Holder
link
12.) Spoons Flowers
link
13.) Mismatch Chair Bench
link
14.) Wrenches Into Wall Hooks
(link)
15.) Bicycle Into Sink Stand
(link)
16.) CD Spindle Into Bagel Holder
(link)
17.) Computer Into Mailbox
(link)
18.) Credit Cards Into Guitar Picks
(Buy: here or here)
19.) Lightbulbs Into Oil Lamps
(link)
20.) Bike Wheel Into Clock
(link)
21.) Wine Bottles Into Chandelier
(link)
22.) Skateboards Into Garden Table Or Children Table
(link)
23.) Glass Marbles Into Fence Decor
(link)
24.) Hangers Into Room Divider
(link)
25.) Old Books Into Shelves
(link)
26.) Bowlers Into Lamps
(link)
27.) Drum Kit Into Chandelier
(link)
28.) Old TV Into Aquarium
(link)
29.) Glove Into a Chipmunk Soft Toy
30.) Bottle Caps Into Tea Lights
(link)
31.) Bottles Into Pendant Lamps
(link)
32.) Plastic Bottle Into Broom
(link)
33.) Bathtub Into Couch
(link)
34.) Pop Tabs Into Bag
(link)
35.) Old Piano Into Bookshelf
(link)
36.) Spoons Into Lamp
(link)
37.) Creative Mirrors of Tennis Rackets
(link)
38.) Old Cassette Tape Into Purse
(link)
39.) Old Chair Into Shelf OR Closet Unit
(link)
40.) Vintage Suitcase Into Chair
(link)
41.) Turn oranges into nice candles
42.) Recycle Old Beer Bottles into Flower Pot
43.) Reuse Empty Plastic Bottles to Make Bangles
44.) Another use of Oranges to make these stunning lights
Share these ideas with you family and friends.
Follow us and get in touch with the latest super DIY Recycling Projects.
Follow and Keep In Touch With Us on :
For more DIY Recycling Projects like these keep on visiting Sad To Happy Project.
You May Also Like: