50+ Beautiful DIY Tote Bags With Free Patterns For You
If we leave some exceptions, all girls love to have a collection of bags. A tote bag is large bag used for carrying a number of items.
Custom tote bags can add to a fun personal fashion statement.
Why spends tons of money on totes and purses when you can make your own at home easily and for a fraction of the cost?
So why not learn how to make some fashionable bags yourself? Handmade tote bags also make for a great way to wrap presents for parties or as an inexpensive but thoughtful thank you present that you can customize. Even if you're a beginner sewer, you can make a DIY tote bag that looks professionally made in a short time. 
Check out these 60 DIY tote bags ideas you can create right at home and add to your collection!
46. Repurposed Sweater Tote Bag
It's time to give those old sweaters a new life.  And turn them into something new. Repurposing is so much fun. This little tote bag that you create its converted from an old sweater. So next time think twice before throwing away your old sweater. 
Step By Step Instructions and Pattern: makeit-loveit
47. DIY Weekender Bag
So this weekend will have you jetting off to the coast for sun & surf? For a weekend excursion you need a quick trip bag. Forget the luggage (too bulky); you need a versatile tote made specifically to carry all your belongings from wallet to swimtrunks for a quick weekend getaway.  Here is a fun choice in a cotton waxcloth outer with leatherette base and trim, perfect for the do-it-yourselfer
Step By Step Instructions and Pattern: wkdesigner
48. Easy Two Toned Tote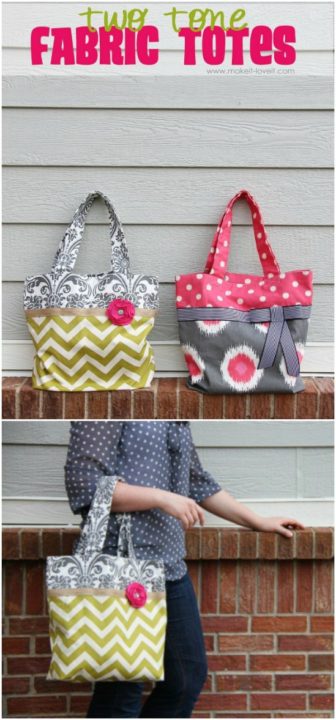 This two toned tote is easy to make and it's a great look with its contrasting colors. This bag is not small and pretty much big enough to carry your essentials.
Step By Step Instructions and Pattern: makeit-loveit
49. Perfect DIY Utility Tote
The most functional yet basic of bag designs. A book bag, a market carry-all, the perfect everyday tote. Carry in your hand, on your shoulder or across your chest. Brings home everything from a laptop to groceries.
Step By Step Instructions and Pattern: bagntell
50. Wallet Style Tote
This little wallet style tote is really adorable and it's pretty easy to make. You'll have three basic steps which include assembling the wallet, assembling the outside bag, and making the lining. The tote bag zips up into a really neat wallet size so you can stick this in your purse and go. When you need it, just unzip and you have a full sized tote bag to carry all your stuff.
Step By Step Instructions and Pattern: sewmamasew

51. Another Great Weekender Bag
This is an extra large weekender multi-purpose tote bag, and it's fairly easy to put together. This fits laptop, camera, phone, books, knitting, clothes, sleeping bag, toiletries, wallet, travel documents, and with room to spare.  It would probably work well as a travel-all diaper bag, beach bag, etc.  Basically, it's whatever you want it to be.  
Step By Step Instructions and Pattern: megantada
52. Big Pocket Tote Bag
This would be a great library bag. It's got a huge pocket in front and one that easily holds a pencil or pen. There are so many cute bag patterns out there, but most of them come from this same basic pattern. You can change up the shape a bit, make it smaller or larger, add a button or more pockets, and you'll never need to buy a bag pattern again.
Step By Step Instructions and Pattern: mycottoncreations
53. Cute Zippered Tote Bag
Don't let the zipper on this cute bag scare you – you can easily make this! t's small enough to be handy to carry around by big enough to fit just what you need. Again it's quite easy to make!
Instructions and Pattern: crazylittleprojects
54. No Sew T-Shirt Tote Bag
Tote bag projects are great and making them becomes easy when there is no sewing required, right? This t-shirt tote bag doesn't need to be sewn at all. You can easily make it under one hour or so. These tote bags are so inexpensive and cute to gift someone.
Step By Step Instructions and Pattern: mommypotamus
55. Minimalist Bag With Leather Straps
Tote bags with leather straps, especially canvas bags look so classy. You can easily make one yourself with this pattern. You can create this tote bag in less than 3 hours. The bag has pretty room to keep lots of stuff. 
Step By Step Instructions and Pattern: designsponge
56. Easy Half Hour Tote Bag
A good heavy-duty tote bag is worth its weight in gold. You can use this to carry books home from the library, to hold cosmetic bags and hair accessories while traveling, as a reusable grocery bag, a gym bag, and the list could go on forever! Plus they are so easy to make it's kind of crazy!  They make a fabulous gift for your friends and family, so pick out some amazing fabric and make a whole slew of them!
This is the perfect project if you're new to sewing as it will take you less than 30 minutes from start to finish. And eventually once you get the hang of each step, I bet you could whip them up in 20 minutes.
Step By Step Instructions and Pattern: babble.com
57. No Sew Leather And Canvas Bag
Did you know that you could get a great canvas and leather bag without sewing? You can! This huge bag is perfect for anything you need to carry and again, it's a no sew project. Instead of dragging out the sewing machine, you use fabric glue or liquid stitch on this one. The leather handles are great and really make it look fancy, and even those don't have to be sewn on. If you want an easy leather and canvas bag, this is about as easy as it gets.
Step By Step Instructions and Pattern: homeyohmy
58. Big Diaper Bag Styled Tote
If you need a big diaper bag or you just want a tote bag that's big enough to double as a diaper bag, this is a great project to try. Plenty of room, lots of pockets, PUL lining, adjustable strap… this diaper bag has it all. Plus, most importantly for a bag that's your constant companion for months: it's GREAT looking! In fact, it might be hard to give up this pretty bag once your baby has become a more compact traveller. 
Step By Step Instructions and Pattern: sew4home
59. Easy DIY Pocket Tote
This cute bag is super easy to put together and it's accented with leather trim and these great pockets all the way around the bag! It has enough room to hold everything you need like wallet, phone, and keys or you could use it as a small diaper bag or even store your tablet in it. It is so stylish with its leather trim and there are pockets all the way around. 
Instructions and Pattern: flamingotoes
60. One Yard – One Hour Tote
This is a beautiful tote bag.  Due to the material that they've used, gives it such a wonderful beach vacation look. If you decide to DIY this tote bag, you can actually complete it in about an hour. It takes one yard of fabric – hence the name. Its a perfect summer bag if you use lighter fabric. On finishing, you get 16 inches deep and 19 inches wide bag.
Step by Step Instructions and Pattern: lazygirldesigns

We hope you liked this collection of DIY Tote bags and you are going to make one of these.
For more DIY Craft Ideas like these keep on visiting Sad To Happy Project and you can also follow us on Facebook, Pinterest, Twitter