8 Stunning DIY Outdoor Lighting Ideas : For Serious Garden Makeover
I love to decorate my backyard, outdoor garden space all the times. Outdoor lights are one of my all time favorite things. There's nothing quite like hosting a fabulous outdoor party. Between the warm breeze, cold drinks and great music, it's all so summery vibes. An easy way to make your yard more inviting is to add lighting so that you can eat, relax, and reconnect with family and friends long after the sun goes down.
If you are an outdoor lover like me, you will easily get inspired by many of these magical yet very easy DIY outdoor lighting ideas for garden, patios, porches, backyard parties, and more.
After an amazing evening when the sun goes down, the party doesn't have to stop. That's why I have collected these top ridiculously stunning DIY outdoor lighting ideas that can beautifully illuminate any backyard or patio.
Most of these DIY outdoor lighting ideas take less than 1 hour to make, using very simple and easy to find materials. You can use easily available things to make these lights like mason jars , string lights, solar lights and tin cans to create beautiful backyard patio lighting and porch lighting easily!
These handmade creative lighting ideas are a cheap and easy way to get your backyard beautiful for summer entertaining. Have a look.
1. Upcycled Detergent Bottle Petal Lights
This lovely garden petal lights is an great example of DIY Recycle projects. They are made with empty detergent bottles. A very elegant garden light with almost no cost and very easy to make.Once you have all the materials, it takes just 10 minutes. Source/Tutorial: instructables
2. Rattan Ball String Lights
I just love this DIY outdoor lights. Simply adorable and easy to make. Like, no tools required WHATSOEVER. If you already have twinkle lights on hand this project will cost you around one dollar. These rattan balls are cool inside or outside and the little spheres can be spray-painted any color you like before they're popped onto the twinkle lights. For the most part, the balls hold on just fine without any help, but you can apply a little hot glue to keep them more secure. Source/Tutorial: craftybutt
3. DIY Muslin Firefly Lights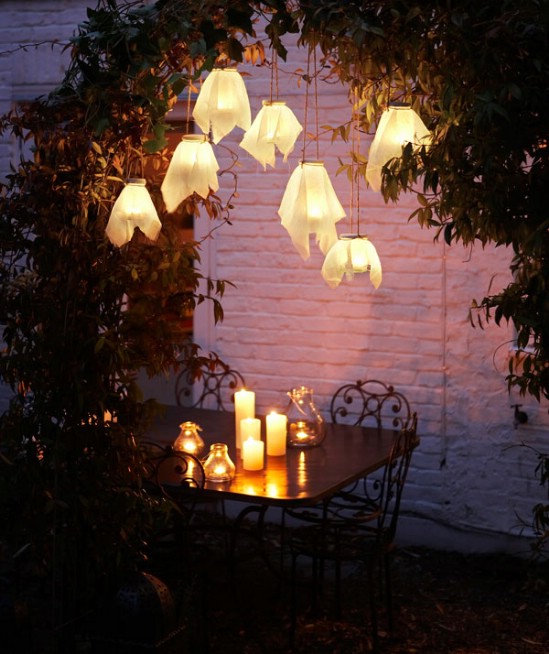 Muslin is a very useful material. You can make these beautiful muslin firefly lights for your garden or patio very easily. To start, just take strips of muslin and use them to create the lanterns using battery operated tealights. You will be surprised to see the final result. Source/Tutorial: blahblahmagazine

4. DIY Hanging Mason Jar Solar Lights
If you love mason jars DIYs then you are going to love this DIY Outdoor Lighting Idea. Its a great way to light up your garden with solar lighting? These homemade solar lights, you can hang them on trees or make it a centerpiece of your room. These can literally fit anywhere (provided there is good sunlight) And the best part is they are super easy to make. I simply love mason jar home decorating projects. Source/Tutorial: findinghomeonline
5. DIY Colorful Solar Lanterns
They look so stunning. I am going to try this DIY Outdoor light idea for my garden. Light up summer nights outdoors with colorful DIY solar lanterns. This is an easy, inexpensive craft that goes pretty quickly. Small solar lights and glass frost paint turn ordinary jars into a string of environmentally friendly mood lights to enhance your backyard or garden.The best thing about this DIY, besides its great look, is the sun does all the work so you'll never have to flip a light switch! If a light exhausts its lifespan, you can replace it for less than a dollar. Check out the step by step tutorial. Source/Tutorial: cherylstyle
6. Rustic DIY Lighted Garden Gate
This garden gate gives your garden a nice rustic look and the beauty magnifies with lighting. Once you finish the gate built, you can just add beautiful lights of your choice. Let me tell you, the gate is really simple to create. Imagine lying down on the grass with the beautiful lights on your top..omg it will feel so good. I got to try this DIY outdoor lights. What about you? Source/Tutorial: kojo-designs.com
7. Ribbon Paper Bag Garden Lights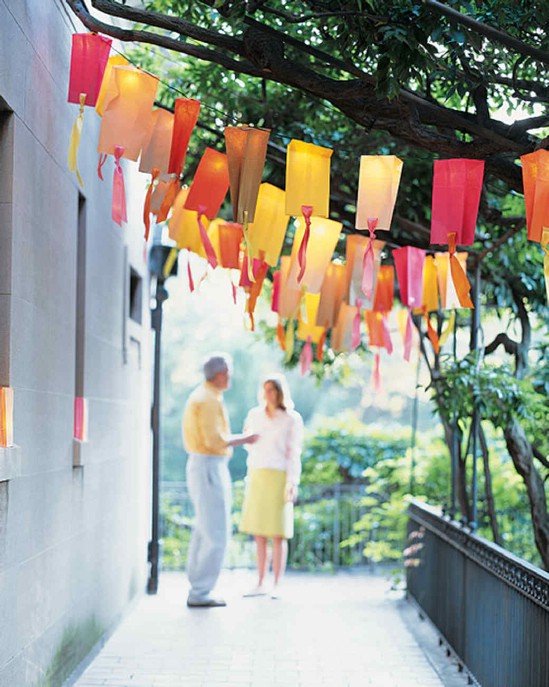 These ribbon paper bag lights are the perfect way to light up your outdoors. These outdoor lights are perfect when you organized a party. To make this DIY lights, all you need is some lights and colorful paper bags and ribbon to make them. Source/Tutorial: marthastewart
8. Upcycled Toilet Paper Roll Lanterns
I am a big fan of polka dot crafts. Here is a fun way to add a festive garland to a party that also adds some cool lighting when the sun goes down, Polka Dot Paper Lanterns.Even better, these will cost almost nothing to make because you use empty toilet paper rolls! Check out the step by step instructions for further details. Source/Tutorial: justcraftyenough
The above are some awesome ideas to illuminate your outdoors and create a wonderful atmosphere for you to chill out with your family and friends. Use these easy but very creative outdoor ideas to make those long evenings that much more fun!
How many of these amazing ideas do you think you'll attempt this year? I hope you will try atleast one of these amazing DIY Outdoor Lighting Ideas? Wishing you an amazing happy crafting time 🙂
Thats all for today guys, I hope you had an amazing time here. Do visit our website again for more DIY crafts ideas. Meantime you can connect with us on  Pinterest and Facebook.
Pin This Collection of DIY Outdoor Lighting Projects for your reference.