5 Best Home Improvement Resolutions For The New Year 2019
A new year has arrived and naturally it means resolution season!
Every New Year, when January shows its face, you vow to save money, lose weight, be more productive or spend more time with friends and family.
But, what about your home? What goals do you set for your sanctuary?
Uhhh…
Haven't thought about it, I see.
Try to forget about your health or bank account resolution for a sec and turn some of your attention homewards.
To get you started, here are 5 home improvement resolutions for 2019 which will ensure that your home is your happy place where you will love coming back to. Your future self will definitely thank you for it!
1. De-clutter, De-clutter, De-clutter
One of the least expensive ways to improve and feel better about your home is to reduce the clutter.
Every year, homeowners acquire mountains of stuff from all over! Without regular purging, drawers and cabinets can get pretty jammed and loaded, making it hard to find the really important things. Oh, and clutter also makes your house looks dirty and dated.
So, this year, make it a resolution to tackle room after room and periodically clearing anything that you don't use, like, or wear to donate to charity. Better yet, host a backyard sale— you'll love the extra money coming your way.
After that, you need to think twice about the things you bring into your home. Fill your home with items that are helpful and help raise your energy levels and throw away the things you do not need, are broken or drains your energy.
Stack useful items like remotes and DVDs in simple woven baskets. Group similar items together on sleek trays and clear your counters of everything you don't use every day.
After all this, get ready to breathe a little easier and be more comfortable in your own home.
2. Start a Garden
This year, try to be closer to nature and take advantage of what it can offer your health— that's two bird with one stone for your new year's resolution.
Start small. A compost pile, a vertical herb garden or a vegetable patch are great for beginners, particularly if you want your kids to join in. We promise you'll benefit more from this than you know.
If you already have a garden, but it hasn't recently been taken care of, do it now. Bring it back to life. Add more flowers and plants to liven up your outdoor space. Ask for help from pest control Pretoria and make sure that your garden is pest-free.
And if an outdoor garden does not suit your lifestyle, consider getting low maintenance indoor plants— statement-making yucca or lush Lady Palm are both great choices.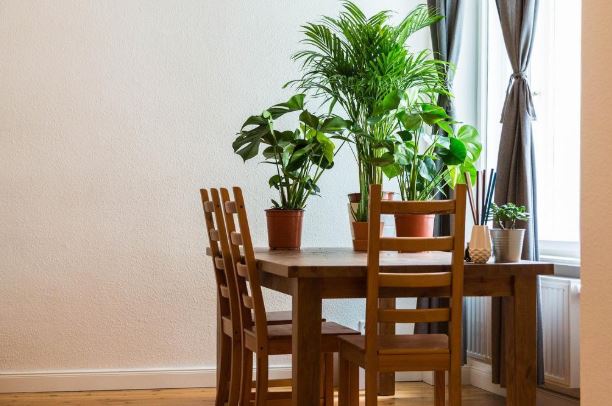 3. Make Your Home Safe and Sound
Your home may be clean and beautiful, but is it safe?
There are several things that a homeowner needs to do in order to make sure that they are not living with a potential hazard and life risks.
Firstly, check your house for radon. According to the US Environmental Protection Agency, this odorless, colorless gas is the culprit for around 21,000 lung cancer deaths every year from the radioactive particles that it traps in your lungs when breathing.
One in every fifteen homes has high levels of radon. And with test kits that will cost you as little as $20 at local hardware stores, there is simply no reason not to investigate it right away.
Furthermore, make sure that you install carbon monoxide detectors on bedroom floors in addition to fire detectors. If a furnace vent or chimney flue leaks or gets blocked, carbon monoxide will remain inside and could kill you and your family.
Also, watch out for dryer lint. Most people neglect to clean the ducts and vents behind the dryer and lint may look innocent, but is highly combustible. The US Fire Administration said that 2,900 domestic clothes dryer fires are reported annually.
Moreover, make sure that your house can breathe. Most homes do not have vented attics or bathrooms, making it a prime environment for mold to grow. And mold is really not good for your health.
If you are considering a remodel, consider testing for asbestos flooring and lead paint. If not handled properly during removal hazardous particles can be released into the air for you and your family to ingest.
4. Restore Old Furniture
Save some money and upcycle, it gives your home a unique touch. Restore your old furniture— sometimes all it needs is some updated hardware or a fresh coat of paint.
What you think as ugly, old furniture can be transformed into something completely different and be a statement piece in your home with just a bit of creativity.
5. Shrink Your Bills
When people think of going green, they usually think it takes a hybrid car or solar panels to make a difference.
When actually, it only takes a little bit of old-fashioned common sense.
The best way is to start cutting your home's energy usage which will reduce your carbon footprint.
Remember your mom's advice to switch off the lights when leaving the room? Do that. Install low flow showerheads and LED bulbs. Turn off the air conditioner when leaving the house and dial down your heater at night. Turn off power strips and set home computers to revert to sleep mode when not in use. Try drying clothes outside on the washing line and wait for the washing machine or dishwasher to be full before running them. Put in drought-tolerant landscaping and water your garden less. Give composting a try and your garden will surely thank you.