30+ Easy To Make and Cute Hair Bows
Do you wish to learn how to make hair bows? Hair accessories have always in fashion trends. Hair accessories can truly add style and class to your overall outfit, along with a touch of innocence.
Every little girl loves an adorable bow in her hair. Unfortunately, those little bows can add up to big money, unless of course you make them yourself.

They are such a simple way to decorate your hairstyle and because they come in all sorts of patterns and colors, you can pair them with almost any outfit! If you're willing to spice up your hairdo with some unique accessories, start with these 30+ DIY hair bows that will change the way you style your hair.
Many of these wonderful handmade hair bows that you can make for your little princess, many of them cost less than $1 to create. Even if you don't have a little girl, these are great handmade gifts.
So without wasting further time, lets check these wonderful DIY Hair bows ideas and projects.
Take Your Hairdo A Mile Further With These Hair Bow Clips
Big, oversized accessories are particularly popular these days, and handmade hair bows are certainly no exception to this fashion rule – here is now you can make your own big hair bow clip.
Project tutorial here: makeitcozee
Colorful Loopy Ribbon Bow
With a few different colors of narrow ribbon, you can create this beautiful loopy bow. You just loop ribbon together and tie to secure it. Do this with several colors, as many as you want, and then attach them all together on a clip.  Once you get the hang of the loops, this hair bow is super easy to make. Instructions – Theribbonretreat
Butterfly Bows
Butterfly bows!! Sounds different right??  Do you want to make some?Even though spring has come and gone, your little one will love wearing these adorable butterfly bows. Because they are so simple to make, you can have several in different colors and make them now so that you have them ready when spring returns. These are colorful and whimsical and simply unique. Instructions – Tencowchick
Classic Bow Made from Scrap Fabric
Any strips of fabric are perfect for making a classic hair bow. Just sew or glue the fabric into a square and then pinch it together in the center to create the classic bow-tie look. This is so easy that you can make a different bow for every day of the week.
This is so easy that you can make a different bow for every day of the week. If you like to sew and you create outfits for your little girl, you can make bows to match with the leftover fabric. Instructions – Momtastic
Five Petal Flower Bow
This little bow is really easy to make, although it doesn't look it. It is a beautiful flower with five petals made from yarn or fabric. You will need to cut the ribbon to make it rounded on the ends and then just sew it together. Add embellishments in the center or leave it plain, it looks great either way. This handmade hair bow can be used to decorate handbags, hair band, Instructions – Ribbonflowers
Flower Bow
Ribbon flowers are super simple to make, and they can be used for so much! I've been using them mostly for cards lately, but they are perfect for little girls' hair clips, headbands, purses, onesies or girls' t-shirts, well you get the idea. You can do a LOT with them.
Flowers are great for all occasions and you can make a flower bow really easily. You just need a piece of ribbon around four inches long and a bit of sewing supplies. This is a really easy project and you can make different bows using different colored ribbons. Remember to choose something special to adorn the center. Instructions – Littlebirdiesecrets
Cupcake Bow
Cupcake bows are simply adorable. These look so beautiful. You will need grosgrain ribbon in color of your choice. The icing is made from korker ribbon and a little hot glue holds it all together. What an adorable clip and you can make them in any color to suit any holiday or special occasion. Instructions – Girlythingsbows
Colorful Loop Bow
This cute hair bow can be made in any color or any combination of colors. All you need is ribbons in a few different sizes, a hot glue gun and something to adorn the center, as well as a clip. You just form the ribbons into flower loops and attach them all together. This adorable hair bow can be made in a number of different sizes depending on how much ribbon you use, so it's great for any occasion. Instructions – Theturquoisepiano
Ric Rac Flower Bow
These flowers are perfect for women, teens, and kids. It also doubles as a hair accessory and pin for clothes, bags, etc. They are made with felt and you simply have to cut out your shapes and stack them on top of each other, gradually changing the size.By following these DIY instructions you will have make a beautiful bow for yourself or your little girl. Instructions – Theribbonretreat
Flower Power Bow
This DIY hair bow project is easy and so cute! here are a few more ideas for spicing up your mod flowers…. layer your blooms with several cut from different fabrics, try making one from plastic or cardboard and add yarn or ribbon to your flowers to create leaves!  Instructions – Abeautifulmess
How To Make A Hair Bow
Snowman Bow
The holidays will be spectacular when you create these little snowman bows for your little girl. To make this hair bow, you will need white ribbon of course, and then other colors like black and brown for the accents. These are so beautiful and will make your girl the hit of any holiday party. As complicated as they look, they are really simple to make and will cost under $1. Instructions – Howdoesshe
Easy Fabric Bow
With little bit of sewing you can make this beautiful little bow. Choose any fabric that you like. The great thing about these bows is that you can choose different textures and thicknesses of fabrics to create different looks. Instructions – Lookatmebaby
No Sew Baby Headband Bow
Baby headbands are simply adorable – and they keep people from assuming that your slightly bald baby girl is a boy. Do not worry if you do not like sewing. You just have to roll strips of fabric into a flower shape and then hot glue to hold it together. You can hot glue your flower to a plain baby headband or if you have a daughter with a little more hair, glue it to a hair clip or barrette. Instructions – Prudentbaby
Disney Princess Ribbon Bows
This is for that every little girl who loves the Disney princesses and you can make your little one a bow in her favorite character. You just need ribbon, hot glue and a barrette or clip. These are relatively easy to make so you can make all of her favorite characters. These would be great for birthday parties to hand out to little girls who attend as party favors. Instructions – Entirelysmitten
Twisted Boutique Bow
If you have a little one in a pageant or you simply want an elegant bow for any occasion, these boutique bows are a great choice. First you need to decide on how big you want your bow to be.
These bows look great huge or little, as a base for a big stacked bow, or as a center.
You just need wide ribbon in any color, needle and thread and a little hot glue. These bows look great in all colors and sizes so you can choose whatever width of ribbon you want and make them however long you choose. Instructions – Theribbonretreat
No-Slip Bows for Babies
This is a typical hair bow bow with a beautiful twist. Even if your little girl has fine or very little hair, there are bows that you can make for her that will not slip.  You add no-slip liner to the inside to keep it in place. The liner is what you would use in cupboards to keep cups or other items from slipping. This works wonderfully on bows and the traditional bow is really easy. Instructions – Makeit-loveit
Spikey Pom Pom Bow
Pom pom bows are really popular and this spikey twist is great. It is made from ribbon, ric rac, felt and a few other supplies. It really is easier to make than it looks and any little girl would love sporting this in her hair. Once you get the idea of this hair bow pattern , you can experiment with different colors for various holidays and other occasions. Instructions – Theribbonretreat
Ribbon Flower
This is such a cute little flower! There a few ways to make this flower,
but I can honestly say this is the EASIEST way!  You can adorn the middle of the bow with buttons, character pins or anything else that you want and these are so easy that you can make more than one for different occasions. Use red or green ribbon and add a whimsical snowman for the holidays or choose any color and adornment that suits your occasion. Instructions – Theribbonretreat
Felt Bow
Not all bows have to be made from ribbon and fabric. This is a great felt bow that will be perfect for fall and winter. Felt is really inexpensive and lets you create so many different things. Making felt flowers and bows couldn't be easier – a little time, a little patience, and you've got yourself accessories as fit for a broach as a headband, or a flourishes for a jacket or purse.
Instructions – Everynothingwonderful
Crocheted Bow
If your a crochet lover, and even if you don't, you can easily create a beautiful bow for girls of all ages. If you are a beginning crocheter, this is a great DIY project to get in some needed practice. Choose yarns of all different colors to create different looks. These would make great gifts for little girls. Instructions – Happytogethercreates
Twisted Funky Hair Bow
I have never thought some twisting can make this hair bow so colorfully beautiful. You can make tons of twisted hair bows once you get the hang of it. These are great because you can add more and more ribbon to make them even bigger and funkier. Just choose ribbon in different colors and get started. They are relatively easy to make and again, once you get the hang of them you can create ribbons to your heart's content. Instructions – Mynameismomma.com
Thanksgiving Turkey Bow
What could be more perfect for Thanksgiving than a turkey hair bow? These cute little hair bows are really fun  to make. You will need brown, yellow, green and orange ribbon as well as a hot glue gun and a few other key craft supplies. If your little one doesn't have enough hair for a clip, just attach it to her headband. Instructions – Codylisa
No Sew Fabric Bow
If you aren't really a fan of sewing, no problme. You can still create a beautiful flower bow. This really easy no-sew bow uses hot glue to hold it together. You just wrap the fabric and glue as you go along. Once you finish, just add any embellishment in the center and you're done.  Instructions – Greylustergirl
Yarn Hair Bow
This petite yarn bow is really attractive and can be made in so many different ways. Simple. Pretty. These little bows can be added to hair clips, headbands, or shoe clips.You can use whatever colors you want and even mix and match if you want it to be really colorful.
You will need an adornment for the center and a clip. You basically just wind the yarn around your fingers and then tie it together. It's easy and you can make several from one spool of yarn.The Real Deal: It cost less than $0.50 to make a petite yarn bow. Instructions – Craftsnob
Cheerleader Bows
Is Christmas is coming?? Then you goto try this hair bow girl. OR Even if your daughter is not a cheerleader, you may want to create a few of these beautiful bows for her to wear. The longer ribbon makes them perfect for formal events or for cheering her little heart out. You can make these in any color and use any embellishment that you want.They are easy to make and even easier to customize to make them perfect for your little girl. Instructions – Sweetpeasandkisses
Halloween Korker Bows
Ok, so Halloween is coming up pretty quickly and if you want something special for your little girl to wear trick or treating, this homemade hair bow is a great choice. These little curly bows are adorable and really easy to create from leftover ribbions too. You can add a slew of different colors to make them really stand out or just use basic Halloween shades, whatever you prefer. Instructions – Brooklynsbows
Fabric and Felt Flower Bow
Flower bows are so easy to make and this one is so simple that you may find yourself creating several. You basically just cut circles from fabric, in whatever size you want your flower, and then fold those circles before gluing them together. Simple and really beautiful and you can create flower bows to match any outfit that your little one wears. Instructions – Theribbonretreat
Piggy Bow
Make a basic piggy bow with 7/8 inch grosgrain ribbon using these instructions. You just loop wide ribbon and then accent it with a narrower ribbon of a different color. Instructions – Tencowchick
Easy Button Bow
Wide ribbon is a great choice for these easy to make button bows. You just have to cut your ribbon into the length that you want and loop the two ends toward each other. Secure the center with a button or stone or whatever you want and thats it. You can sew the ends together or use hot glue if you prefer and then just add a clip or barrette to complete the project. Instructions – Skiptomylou
Easy Traditional Bows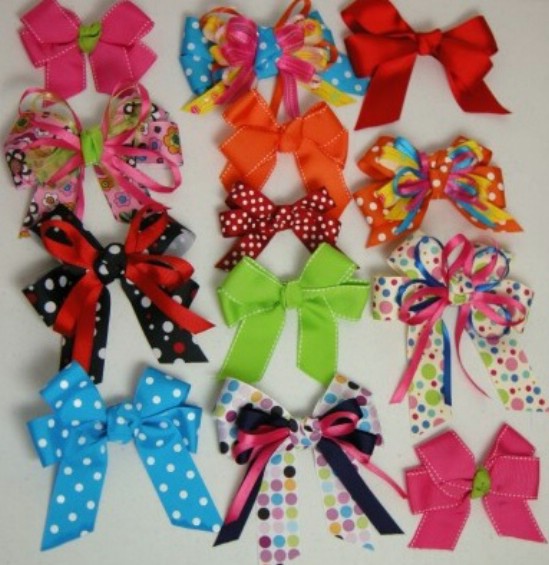 These are traditional looking loopy bows. If you need a smaller bow, simply choose a narrower ribbon and a wider ribbon for larger bows. You can also add additional layers to make them extra loopy. Just glue to a barrette or clip and you can create many different looks for different occasions. If you like the look of this simple bow and want to take it up a notch, have a look at this adorable bun do with a weaved ribbon and bow.  Instructions – Southernplate.com
Great Pop Bow
With colorful different color ribbons you can make this handmade hair bow really stand out or do a single color for special occasions. You just basically have to loop the ribbon together and secure with a needle and thread. You can choose to leave strands of ribbon dangling if you want or cut them off to give the bow a different look. Instructions – Mooresmischief
No matter if you like classic and practical hair bows, or if you fancy the dotted or sparkly ones that will make you stand out from the rest, in above 30+ easy and fun hair bow ideas you will find inspiration!
For more DIY tutorials like this keep on visiting Sad To Happy Project and you can also follow us on Facebook, Pinterest, Twitter . 
Interested in creating your website like this?? Here is the step by step guide on 'How To Start Your Own Blog' for you. It super easy.