22 Easy And Classy DIY Curtain Ideas To Dress Up Your Home
Curtains add more beauty to our homes. One of the fastest and easiest ways to completely change the look of your room is to change your curtains. Curtains, after all, are just fabric. Much like underwear. And because they generally cost more than they "should," curtains are an excellent candidate to make yourself.
That's why today I've a collection of a great list of 20 easy DIY curtains that you can make with little or no sewing plus they are super inexpensive to make. If you don`t like to sewing then don`t worry. You can still do it by yourself.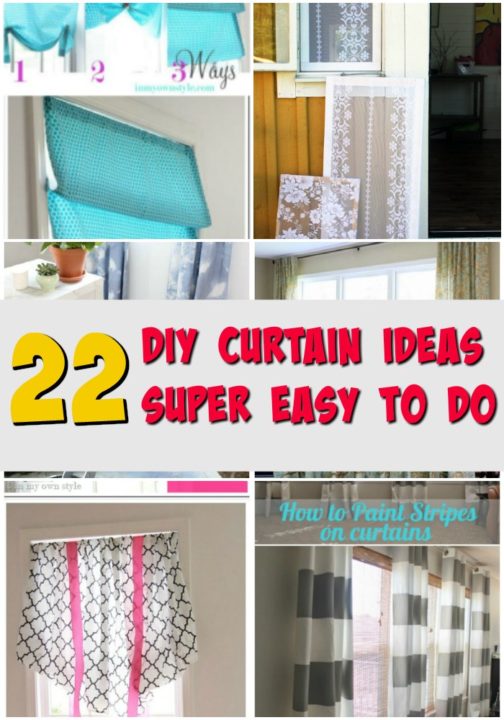 Windows are one of the easiest ways to transform the look and feel of a room.They're a quick and easy way to give any room a much needed facelift, but let's face it. Curtains are expensive!
Paying for new curtains every time you want to change a room isn't the most cost effective way. Especially when you can make your own. That's why we selected these top 21 DIY Curtain Ideas so you can transform any room without spending a fortune! Have a look.
1. Ikea Hack Pom Pom DIY Curtains
I love making pom pom crafts and these DIY pom pom curtains will look just like ready made one. Only you will know how inexpensive they are, and they're really easy to make.  Via: beckhamandbelle
2. Tea Towel Curtains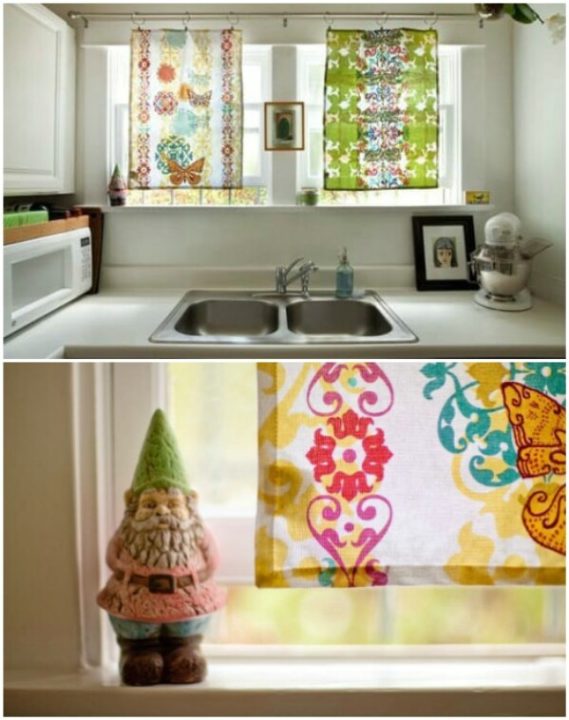 This is one of the easiest DIY curtains in the collection, and it's so original. Whether you've bought a bunch of bath towels on sale or have a bunch left over, you can make use of those towels to create these really gorgeous towel curtains. There's no sewing involved in making it. Just attach hooks to your tea towels and hang them! Tutorial and instructions: apartmenttherapy.com
3. DIY Stenciled Curtains
To make this DIY curtain all you need is some plain white curtain panels, stencils, fabric paint, and a bit of imagination. You can choose any stencil that you want, and these are really easy to make. You can even use a paint roller to apply the paint, so they take literally just a few minutes each. Tutorial and instructions: balancinghome
4. Washable Striped Curtains
To make this curtain at home, you need some inexpensive white panels, which you can get at Wal-Mart for around $9, acrylic paint, and a paint roller let you create these amazing washable striped curtains. Use whatever colors you wish. The best part is they're really cheap to make and so easy to care for. Tutorial and istructions: viewalongtheway
5. Sharpie Script Curtains
If you dont want somthing heavy then go for this DIY curtain idea. Just take a sharpie and write whatever you want on them in beautiful script. You can use some light colors. These would be perfect for a den or library, if you're lucky enough to have a library at home, or put them on the window by your favorite reading chair. Tutorial and instructions: dogsdonteatpizza
6. Cut Out Roller Blind
Take an inexpensive roller blind and add your own imagination to create the perfect window covering. To trace your desgin, you can use stencils or freehand it. Once you've traced in what you want, use a craft knife to cut out your design. This is a great idea for bathrooms and kitchens, or let the kids choose a pattern and use it in their bedrooms. Tutorial and instructions: boligliv
7. Tablecloth Curtains
Turn a table cloth into this beautiful curtain. Do you have a tablecloth that you just don't use anymore? Or maybe you just have one that you think would be the perfect curtain for your dining or living room. You can easily turn that tablecloth into a curtain. Even if you don't have one on hand, you can pick up old tablecloths at yard sales and flea markets, sometimes a lot cheaper than curtains. Tutorial and instructions: justagirlblog
8. DIY Basic Panels
Its requires little bit of sewing. Even if you don't have a lot of sewing experience, these panels are really easy to make, and they let you create gorgeous curtains for every room in the house. You can also use them to create some of the other projects that require panels to make. Find cheap fabric at flea markets and yard sales and get to sewing! Tutorial and instructions: twotwentyone
9. Fold And Clamp Tie-Dye Curtains
Tie-Dye will simply never go out of style, especially in home décor. If you want something that looks really elegant and is unique, these tie-dye curtains are perfect. The trick is in the fold, and you can fold your curtains different ways before you dye them to create different looks. You cannot mess this pattern up.  Imperfections just give it character and actually look purposeful with such an organic product. These are great for any room in the house. Tutorial and instructions: thewhitebuffalostylingco
10. Lace Covered Window Screens
Have you ever seen any adorable lace curtains like this? By simply covering your window screens with some old lace curtains and securing it with fabric glue, you can create this beautiful and elegant look for any room in your home. If you don't have old lace curtains to use, you can also use lace tablecloths or any lace fabric that you may have laying around. Combine with lace curtains and you'll really have that Victorian era look going on. Tutorial and instructions: designmadde
11. DIY Ruffled Curtains
Take those boring old plain basic drapes and convert them into luxurious DIY ruffles curtains. They'll give any room a feminine look and add a bit of pizazz to those otherwise dull drapes. The best part is they're easy to make and even the most newbie sewer can create them. Add as many or as few ruffles as you want to make then unique to you.  Your family will love this DIY Home Decor.Tutorial and instructions: maisondepax
12. Greek Key Curtains
These gorgeous curtains can be made without sewing, unless they need to be hemmed. By "no-sew," I mean: I totally had to sew to make these curtains, but just to hem them. Hopefully you won't have to. Or you'll just be four hundred times more competent with a sewing machine than I am, and can swiftly sew a straight hem without shaking your fist at the sky and cursing your wretched sewing machine. You'll use liquid fabric glue to place the Grosgrain ribbon, and the finished look is amazing. Tutorial and instructions: viewalongtheway
13. Barn Wood Valance
Maybe you don't want curtains at all. This barn wood valance is perfect for kitchens and so very easy to DIY. Just grab an old wood plank, if you don't have one handy you can pick them up virtually everywhere, and paint whatever you want on it. Lyrics are always a great idea. Make sure that you cut the wood to fit your window and then hang it up! Tutorial and instructions: athomeonthebay
14. Upcycled Indoor Kitchen Shutters
Want to really make your home look rustic? Try these indoor kitchen shutters that you can create from slats or other leftover wood planks. I adore the look of indoor shutters! They're so creative and so much different than other window treatments. Plus, these are really easy to make and once you stain or paint them, they're perfect to match your kitchen decor. Tutorial and instructions: vintagenewsjunkie.com
15. No Sew Roman Shades
You can create these great Roman shades with just a yard of fabric, and to your surprise this is completely no sew project. You have three different options for how you want them to look. I love Roman shades. They're so elegant and so different from traditional curtains. They're perfect for smaller windows, too when you just can't find curtains or blinds to fit. Tutorial and instructions: inmyownstyle
16. Drop Cloth Curtains
Drop cloths that you can pick up at any hardware store are perfect for making curtains. The great thing about drop cloths is that they are already hemmed on all sides, so you just ned to hem the bottom where you cut off the extra long fabric. And, you can paint them however you want. Use paint that's leftover from painting your room trim to make them match perfectly or go in a completely different direction. The point is, these are easy to make and look like really expensive curtains when they're finished.  Tutorial and instructions: theturquoisehome
17. Paint Striped Curtains
Here's another great painting idea for curtains. Customize some plain curtain panels from IKEA by painting gray stripes on them.  They look amazing and totally change the look of your room.You can make them completely unique in just a couple hours from start to finish, and this technique is really easy. Tutorial and instructions: infarrantlycreative
18. Fitted Sheet Window Shade
This is truly the easiest no sew window treatment I have ever posted.  This is a great no sew way to get a new shade for your window, and it's super easy to do. Plus, you can use up those fitted sheets that you aren't using on the beds. This is a great DIY Curtain idea to get rid of those sheets when you've upgraded to a bigger bed. Tutorial and instructions: inmyownstyle
19. DIY Cornice Board
This DIY Curtain idea will take your home decor to entirely next level.. Add a bit of architectural design to all of your windows with a new cornice board. Tutorial and instructions: thistlewoodfarms
20. Flutter Curtains
These Anthropologie knockoffs are really easy to DIY. They do require a bit of sewing, but not so much that a newbie couldn't make them. The fluttering ruffles up and down them are so romantic and elegant. You can use them in the bedroom or anywhere you want just a bit of luxury in an easy to DIY curtain panel. Tutorial and instructions: kojo-designs.com
21. No-Sew DIY Curtains
Curtains can be quite expensive. Often you'll hear, "Make your own. It will save you tons of money." Yes, that's true. But what if you don't sew? What do you do then? You can still "make your own"! Tutorial and instructions: decoratingfiles
For more DIY tutorials like this keep on visiting Sad To Happy Project and you can also follow us on Facebook, Pinterest, Twitter . 
Interested in creating your website like this?? Here is the step by step guide on 'How To Start Your Own Blog' for you. It super easy.