17 Useful DIY Calendars And Planners To Stay Organized
Is your bedroom, work place well organised? Or do need to take extra efforts to keep it organized. I believe, organized life is a happy life. I am not a organized person by nature. However I learn and try new things to keep myself organized. I like to store notebooks, calendar. I have soft corner for planners, notebooks, journals and many other paper things.
Out of that love, today I have collected these popular DIY calendar and planner ideas for you guys. These diys are actually much easier than they looks. Trust me you will enjoy making these handmade calendars.
Follow the links after each diy for step by step instructions. Lets get started. Happy crafting everyone.
1. DIY Desk Calendar

I like to keep things simple Just like this sweet and simple DIY canlendar. To make it you can reuse old photo frame you no longer use. How cool is that?Source/Tutorial : allthingspinkandpretty
2. DIY Hand Stamped Wood Calendar
It find to make wooden crafts. This DIY wooden calendar is stamped by hand and easy to make. Visit your local craft or hobby store and buy supplies like a permanent ink stamping kit and an acrylic block. Trust me guys its very easy to make. You will for sure love the final output. Also this DIY canlendar can be a perfect DIY gift to give to your love one. Whats say?Source/Tutorial: damasklove
3. DIY Postcard Calendar
Postcards are useful in crafting. Vintage postcards can be found at most flea markets and antique stores. You could customize yours numerous ways to fit your taste. Though stamping the dates looks like a long process, it actually took about an hour to complete this entire project. Are you excited to create this handmade calendar?Source/Tutorial: designsponge
4. DIY Leather Bound Planner
Do like this DIY personalized planner? Great news is its easy to make. Wrap an ordinary planner in leather. Also it makes a wonderful gift for anyone you know who loves (or needs) to stay organized.I can't wait to try this.Follow this tutorial for more details. Source/Tutorial: theartofdoingstuff
5. Handmade Wall Calendar
This DIY wall canlendar will not only help you to stay organized but also  serve as a great DIY wall decor. What do you think guys? Source/Tutorial : ispydiy
6. Full Wall Chalkboard Calendar
What a wonderful idea! Want to make one? It's so easy. I like this idea so much. With this DIY calendar planner, I am sure you will not forget any important things. And the exciting thing is, you can use this calendar again and again. How cool is that?  Source/Tutorial: ourfifthhouse
7. DIY Masking Tape Calendar Wall
I simply love this DIY calendar. Use canvas or a large poster board to make this one. All you need to do is, use masking tape to separate the days and weeks. You can also try many wonderful colors and designs of tape. There are various ways to make customize it further. Trust me guys its very easy to make. Are you excited to create this DIY project? Source/Tutorial: ohhhmhhh
8. This Amazing DIY Chalkboard Calendar
Raise your hand if you find this handmade chalkboard calendar exciting and easy to make and use. Source/Tutorial: sincerelysarad
9. DIY Metallic Pocket Planners
To make this DIY personalized pocket planners, you need some notebooks. I like tiny pocket calendars as they are so handy. If you are also an old school person like me then you will love to try this idea. Give it a try guys and enjoy. Source/Tutorial: blushandjelly.com
10. DIY Perpetual Chalkboard Calendar
This perpetual chalkboard calendar you can use it again and again. You can reuse each month to keep track of my projects and appointments. Just change the month and days each month.Would you like to try this one? Follow this tutorial for more details. Source/Tutorial: curbly
11. Easy Post It Note Calendar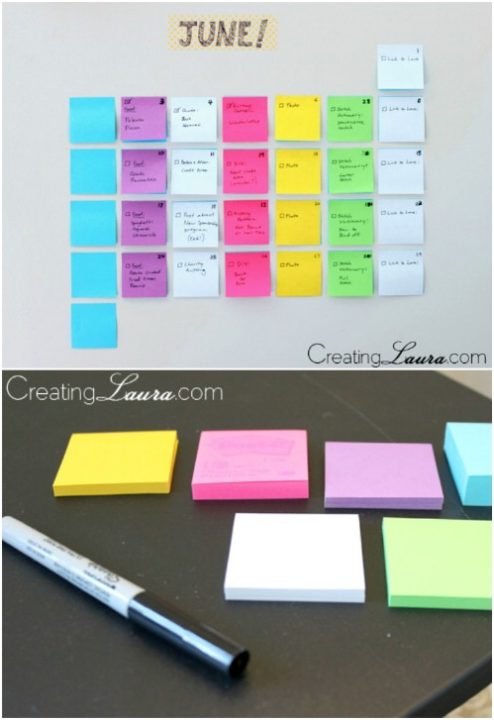 Oh my god, this DIY calendar project only takes 5 minutes to make and another few minutes to plan out your month and write on all the sticky notes. How cool is that? Do you wish to try it? You'll need a blank spot on your wall, several colors of sticky notes, and a marker to make this. Source/Tutorial: creatinglaura
12. Upcycled Bicycle Wheel Chalkboard Calendar
This is such a genius idea! Bicycle wheel turned calendar? Yes, you heard it right. It gives that perfect vintage look to your home decor.Also its a chalkboard diy calendar that means you can use it again and again. I think its a fun project to try. Source/Tutorial: thistlewoodfarms
13. DIY Calendar Journal
Trust me guys this calendar is very easy to make. When your crafty mind has imagination power then possibilities are just endless. Are you excited to create this DIY project, then raise your hand. Source/Tutorial: witandwhistle
14. Perpetual Wooden Block Calendar
Another wonderful DIY perpetual calendar idea. To make this once you need very less craft supplies. Even if you don't want to know the date, it looks great on our desk and is fun to play with during long conference calls. Follow this tutorial for more details. Source/Tutorial: apartmenttherapy.com

15. DIY Instagram Calendar
For instagram lovers is a great DIY craft. This one is actually much easier than it looks. To make this DIY calendar you need : 12 subject images, plain poster board, a mini calendar, scissors, glue, yarn and decorative paper for the cover. Trust me guys its very easy to make. Anyone can make it. Source/Tutorial: abeautifulmess
16. Easy 3D Printable Calendar
To make this 3D calendar, all you need are 2 piece of card stock. Yes, thats it. Dont you think it can be a nice gift to present someone. Source/Tutorial: apieceofrainbow
17. Colorful Paint Sample Calendar
This is such a beautiful idea! Use paint samples to create this stunning and bright colored calendar. If you like this idea then follow this DIY project for further How to instructions. Source/Tutorial: chicisms
I hope you will try atleast one of these amazing DIY Calendars And Planners. Wishing you an amazing happy crafting time 🙂
Thats all for today guys, I hope you had an amazing time here. Do visit our website again for more DIY crafts ideas. Meantime you can connect with us on  Pinterest and Facebook.
Pin This Collection of DIY Calendars And Planners ideas for your reference.