16 DIY Garden Decor Ideas Which Are Easy To Do
Backyard is an amazing place, it can be your little magic place for enjoying in time. Decorating the exterior of your house not only improves the overall look but it also adds that HOME feelings.The best outdoor spaces are packed with useful, weather resistant and nice looking furnishings.
For today I have a collection of DIY Garden Decor Ideas. These DIY outdoor decor ideas are to enhance the beauty of your garden.
From repurposed old items to upcycled used tires, there is something in this collection that is sure to spark your imagination and make you want to get started decorating your garden now.
In these DIYs garden decor ideas, there are step by step tutorials on how to build a buid house, garden mushrooms, cement garden planter, stone bird bath..and many more..
These creative garden decorations and backyard designs can inspire you to take you garden to entirely next level.
1. Adorable DIY Stone Garden Birdhouse
Stone birdhouses are easy to make and, with the right materials, can be kept in the garden year-round. The trick is to use a sturdy wood birdhouse as the base, and attach stones with the right adhesive for a lasting bond. Use old garden stones into beautiful birdhouses and hang themin your lawn or garden.
Dont you think its a wonderful way to treat little birds with these beautiful houses. I am sure these bird houses will help you to invite more birds in your garden. Tutorial/Source: empressofdirt
2. DIY Wire Teacup Garden Stake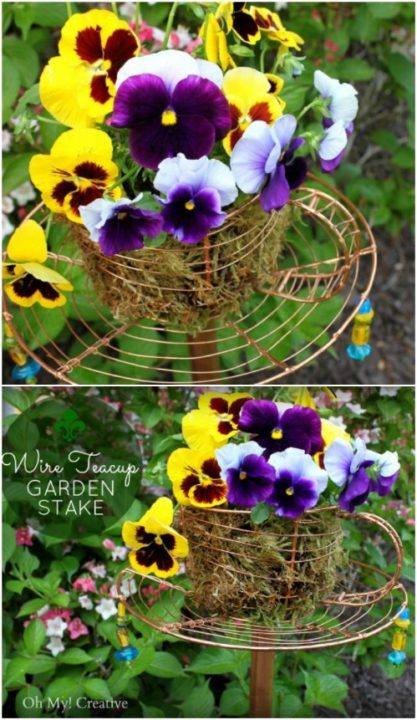 This Wire Teacup Garden Stake is so easy to make and a perfect addition to your garden. Its an easy DIY Garden Decor! To make this garden stake, you actually craft teacup out of copper pipe. I think, this one is a beautiful stake for your  garden and also a wonderful way to enhance your DIY creative skills. One you complete this DIY then make sure to decorate it with some flowers to make it look more beautiful.  Tutorial/Source: ohmy-creative
 3. Colorful Upcycled Hubcap Flowers
Old hubcaps are easily available at thrift stores and they are not at all expensive. Have you ever thought of buying hubcaps and turning them into beautiful, colored flowers for your garden? Well, this DIY Garden Decor is pretty easy. All you have to do is, paint hubcaps with bright colors of your choice. Later use old wooden stakes or even broken shovel handles to place them in the ground. A bunch of hubcaps flowers together will look gorgeous in your garden. You can further decorate it with some embellishments. Tutorial/Source: theweathereddoor
4. DIY Garden Mushrooms
Dress up your yard or front porch with these quick and easy DIY Garden Mushrooms. This project is so simple that it's great for kids, too! If you don't wish to have real mushrooms in your garden, these DIY versions of mushrooms are for you. They're lightweight and they can be moved to add color to different parts of your yard. The material you need are terra cotta planter for each one and the drain plate which makes the top. And if you want even taller mushrooms? Paint more pots in various sizes and stack them. Place a drain plate on top of each stack.
Tutorial/Source: birdsandblooms
5. Simple DIY Concrete Spheres
These DIY concrete spheres are simple and easy to make. Mold concrete into a ball and then keep those balls in your garden. To further customize this DIY Home Decor, you can make different size concrete spheres and paint it with bright colors. I am sure this simple yet unique DIY garden decor will add stunning look to your backyard. Source/Tutorial: bhg
6. DIY Concrete Mushrooms
I love mushrooms soup. Specially in monsoon season. Many people dont keep real mushrooms in the garden because all mushrooms are not edible and some of them are poisonous. But why worry when you can DIY mushrooms for your garden? These DIY concrete mushrooms are not difficult to make. Take used empty 2 liter plastic soda bottle to create the stem and the top is made from shaping plastic into a mushroom top shape. Once you create a single concrete mushroom, I am sure you would like to make many more. Maker this project as a weekend family DIY and have lots of fun together. Source/ Tutorial: blog.ljcfyi.com
7. Quick And Simple DIY Concrete Bird Bath
Last week I published DIY Bird Bath collection. Let me add another bird bath diy idea in it. This one is molded from concrete and it gives a nice modern look when it is finished. It can become a centerpiece of your garden. This adorable DIY Garden Decor Idea will help you to create a nice hangout place for sweet little birds in your garden. Little birds will love to visit it. Source/Tutorial: bhg
8. This Golden Centered Decorative DIY Garden Spheres
These decorative concrete spheres can be used for small plants or herbs, or spray the inside with Rust-Oleum Metallics, pop in a candle, and add unique lighting to your next outdoor event. Its not just gold but you can actually paint the inside with any color of your choice. Once these concrete spheres are ready, you can use them as wonderful planters, candle holders or gorgeous water features. If you wish to use it as water feature then make sure to add a coat of waterproof spray to the inside and so that you can fill them with water. I hope you will try this amazingly beautiful DIY Garden Decor project. Source/Tutorial: home-dzine
9. Unique DIY Towel Shaped Cement Garden Planter
Isn't she a beauty? And want to know the best part about it? This gorgeous concrete planter is made from an old towel. Whatttt? That's right, you heard it right.
An old towel. Isn't crafting amazing? An old towel is used to shape the planter and to give it a lovely texture. When it is finished, you can gift it to someone or you can use it as a planter. But still I am surprised to see how a simple item like a towel can help to make this stunning DIY garden decor. Check the for step by step instructions.  Source/Tutorial: therusticwillow
10. Adorable DIY Concrete Garden Ladybug
This little concrete lady buy is my favorite. Simple and Sweet DIY. Base is made from concrete and a mold. There are so many things that you can use to make the ladybug mold. Once the concrete has dried, all you need to do is, use your imagination and let your creativity flow. Decorate it in such a way that it will look like a ladybug with mosaics. Broken glass or other glass items are best to create the design. This one is super fun to make. Tutorial: handmadeidea
11. DIY Cement Garden Decor Using Lace and other Crochet Items
If you are looking for something really unique for your garden, then this DIY garden decor is perfect for you. You can create beautiful items for your home re-purposing doilies or other crocheted items.You can make any shape you want like bowls or you can make planter shapes. It is all up to you:-))
I hope you will give a try to this diy. Source/ Tutorial: sproutsandstuff
12. DIY Concrete Bowling Ball Planters
I just love the idea of making DIY concrete bowling ball planters. They are so useful and perfect for showcasing your favorite plants and flowers. Since they are made from concrete, so you can place them inside or outside. Do not not forget to decorate them, it will make them more beautiful. Source/Tutorial: instructables
13. Unique DIY Concrete Rubber Boot Planters
This another concrete DIY. But dont you think its so unique. Rubber boots are used to mold. In case if you don't have an old pair of boots then do check with your friends or family or you can check out your local thrift store. Once you get a pair of old boots then just start making this beautiful DIY garden decor project. Source/ Tutorial: wwwfurelise

14. Beautiful DIY Sand Cast Leaf Bird Bath
Ever since I checked this leaf shaped bird bath, I wish to make it for my garden. It looks so stunning. This sand-cast birdbath is easy to make, works with any large leaf and it can be finished a number of ways. For a large birdbath, like the one in the photo above, plants like rhubarb, gunnera or 'Sum and Substance' hosta work best.If you check it online, it make be expensive. So how about making it at home. Make this by using a large leaf as a mold and it combines sand and concrete.You're not limited to big leaves. This process will work with just about any type. Source/Tutorial: gardengatemagazine
15. DIY Concrete Garden Orbs
These DIY concrete garden orbs are made with the help of fabric strips concrete. The design is amazing. Take this DIY for reference and use your creativity to take it to next level. You can do it in any number of sizes and different shapes. Let me tell you, these concrete garden orbs are easy to make and quick to dry. How about giving it a try?? 🙂 Source/ Tutorial: madebybarb
16. DIY Concrete Topped Planter Side Table
I love spending time in my garden. And if I get a side table like this then that would be of great use. What do you think?? You can use for so many different ways. Check out the link for further DIY instructions. Source/ Tutorial: thisoldhouse
I hope you will try atleast one of these amazing DIY Garden Decor Ideas to decorate your garden. Wishing you an amazing happy crafting time 🙂
Thats all for today guys, I hope you had an amazing time here. Do visit our website again for more DIY crafts ideas. Meantime you can connect with us on  Pinterest and Facebook.
Pin This DIY Garden Decor Project Collection for your reference.