125 Easy DIY Pallet Projects and Ideas For Your Kitchen Furniture
Are you looking for a nice, creative and at the same time useful DIY project? Then how about trying some awesome pallet projects this time?? Take a look at these creative ideas using pallets, which are very popular. Pallets are simply leftover wood. These 125 plus top DIY Pallet projects are eco-friendly.
I just love them all.
Pallet Wine Bar
This Pallet project you can customize as per your need. Also it requires little work to set up.This is a project for a free-floating pallet wine bar, where the wine storage actually doubles as a table. The hollow space inside the pallets is perfect for storing the bottles. You can then eat and drink at the table, comfortably situated on bar stools.  Also notice that it lights up from within for really awesome ambiance!
Source/Tutorial: thepoorsophisticate
DIY Pallet Swing Bed
Just imagine the experience and happiness you feel while taking rest or reading books laying down on this DIY pallet swing bed. This lovely and convenient delight can be settled to any patio location of your home like backyard and porch of your home. Pure handcrafted and redeemed pallet bed swing model can drive you to the lovely fantasy in lazy afternoons in summers.
All this lovely furniture is on a budget to be happy.
Source/Tutorial: palletlist
DIY Pallet Coffee Table
Many of you have seen and probably coveted the old rail carts that everyone is using for coffee tables, but if you can't afford the real thing why not make one!?
Source/Tutorial: unexpectedelegance
Two-Pallet Potting Bench
A charming pallet potting bench that is also a beautiful console table or craft desk! Not to mention, it is easy and quick to make! Just 2 or 3 pallets, a little bit of cutting and assembling, we have a DIY Pallet Potting Bench so full of warm sunshine, smell of flowers, and all the carefree earthy fun!
Source/Tutorial: apieceofrainbow
 DIY Pallet Wine Rack
Are you looking for a new table in your kitchen? Here is a project for a simple pallet wine rack This one you can hang on the wall of your kitchen. This pallet wine rack is awesome because it not only holds wine bottles, but also holds goblets. So it is multi purpose! What a great space saver! Right??
Source/Tutorial: thecartens
Coffee Table from Pallet
Love building with pallets? This fun project uses three pallets to make a unique coffee table. I like this design, because it gives you a flat, even surface on the top, which is not always easy to achieve with pallets.
Source/Tutorial: instructables
Lighted Reclaimed Lumber Christmas Sign
It really is incredible what you can do with the simplest supplies, and the finished look to me is amazing.
Source/Tutorial: TheKimSixFix
Coffee Mug Holder
Maybe you don't need a rack to hold your wine glasses at this moment because you like to drink  lot of coffee. So now you are looking for a way to display all of your cups! Click the source link below and find a step-by-step photo tutorial to create your own beautiful, rustic coffee mug holder. Its one of my favorites DIY pallet project as it offers a way to showcase your favorite mugs, and they are all easy to grab when you need them!
Source/Tutorial: onelittlebirdblog
Simple Pallet Bike Rack
Instant bike rack made from two pallets — no assembly needed. The pallets are not modified or secured, just leaned together. Seems stable enough. It's a little crowded for four bikes, but not unworkable. Here wooden pallets leaned against each other. It's so simple that it's hardly worth saying a word about it; the picture ought to be enough.
Source/Tutorial: treehugger
DIY Pallet Photo Frames
If you're anything like me you have approximately 1.4 million digital images stored somewhere that have never seen the light of day. And it's a shame really, isn't it? These DIY Pallet Photo Frames will have you printing out those forlorn digital images in no time flat!
Source/Tutorial: southernrevivals
Simple Kitchen Island
If you liked the above free wine bar pallet project, you may also be interested in this one for making a simple kitchen island. There is no step-by-step instructions, but there are a few assembly photos. A lot of people don't have a kitchen island and wish they did. There is no reason to go out and spend a ton of money to get one installed for your kitchen, when you can just upcycle a pallet into a lovely homespun island all on your own!
Source/Tutorial: joanneinspired
Gorgeous Rustic Kitchen Design
This is an awesome design for a kitchen using recycled pallets by Spanish designers Paco Serinelli and Alessandra Samson from Anatomica Design. As you can see, pallets are used here for some of the cooking surfaces, and there are some lower pallets as well which could function as shelves. In conjunction with other rustic materials, you get a look which is at once rustic and industrial.
Source/Tutorial: gizmag
DIY Pallet Clock
This is the easiest DIY wood clock ever! Source/Tutorial: allthingsheartandhome
Pallet Pot Rack
Looking to free up space in your cabinets by adding a little overhead storage to your kitchen? This pallet pot rack is attached to the wall (near the ceiling) with chains. Hooks on the bottom can hold pots, pans, and cutlery. It's a simple, easy to do project which is great for small kitchens!
Source/Tutorial: agreenpointkitchen
Pallet Wood Chair
Desiring something super unique, this 2 full pallet chair was whipped up in a couple of hours, and is PERFECT for the non builder types!
This is something you couldn't find in a big box store. So gathere up two like minded pallets, some reclaimed wood, and got to work.
Source/Tutorial: funkyjunkinteriors
DIY Pallet Christmas Tree & Tutorial
These Christmas pallet trees are a quick and simple way to dress up your front porch for the holidays. Add lights or ornaments to make your tree more festive.
Canning Pantry Cupboard
Do a lot of canning, or like to make preserves in jars? If so, you know that cans and jars can quickly acquire a ton of space in your kitchen. One great solution is to use a disassembled pallet to construct a canning pantry cupboard. If you follow the source link, there is no guide, but there is a picture of the disassembled pallet and shipping crate which were used. This can help you to figure out how to create a canning pantry cupboard of your own for your kitchen!
Source/Tutorial: oldworldgardenfarms
Another Kitchen Island
If you liked the kitchen island project which you saw above, then you will definitely like to check out this kitchen island project also. As you can observe, here the construction is very similar, but the final finish is very different. Follow the below source link to check further details.
Source/Tutorial: bec4-beyondthepicketfence
DIY Wooden Utensil Box for Your Kitchen!
There really are a lot of pallet furniture ideas for your kitchen out there. I love that this utensil box was super inexpensive to make and that it's large enough to hold a lot of stuff. When you're creating something, remember that it doesn't need to be perfect. Just have fun and let your imagination take over!
Source/Tutorial: thefrugalgirls
Rustic Pallet Cabinet
Want to replace your kitchen cabinets with gorgeous rustic pallet cabinets? I think these look just amazing, and I would love to do something like this for my kitchen. There is a step-by-step tutorial at the source link, so be sure to check it out!
Source/Tutorial: simeonhendrix
DIY Pallet Wine Rack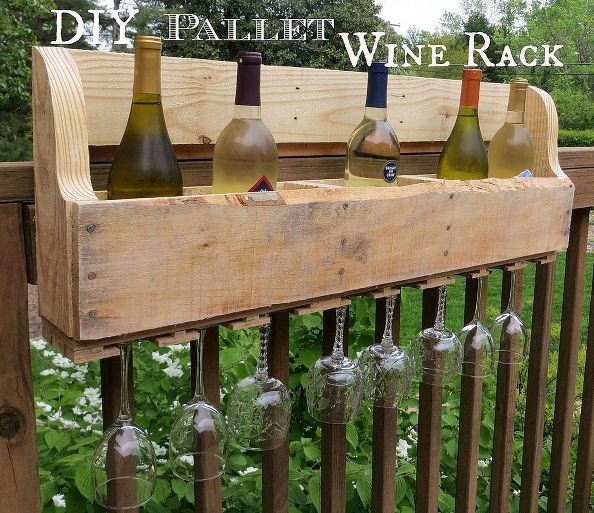 A pallet destined for the landfill is repurposed to make a wine rack. What's not to love about a pallet project, especially when something that might get tossed in the garbage becomes a useful home decor item?
Source/Tutorial: virginiasweetpea
Rustic Pallet Coat Rack
If you are little busy this time to make nay DIY pallet projects for your kitchen or home then you might like to check this rustic plallet item. It looks super customized and will take your home decor to entirely next level.
You can check its latest price HERE
Bonus: Build a Play Kitchen
Again, here is one more "kitchen" project with pallets. Instead of using pallets to build furniture for your real kitchen, use them to construct a play kitchen for your children! The design could also give you ideas for furniture you could build for your real kitchen.
Source/Tutorial: diypalletfurniture
DIY Wood Deck Cooler
This DIY Pallet wood project is perfect to make your weekend crafty and at the same time creative.
Source/Tutorial: foxhollowcottage
Finally check this video series of 101 diy pallet ideas for projects. These are made easy to upgrade your furniture.
Give DIY pallet projects a try, there are so many inspirations here to enjoy! 
Now you have seen 125 plus best and popular DIY pallet idea for kitchens and upgrade furniture! I hope you get some inspiration from these wood projects. Happy Pallet crafting and Selling!
For more DIY tutorials like this keep on visiting Sad To Happy Project and you can also follow us on Facebook, Pinterest, Twitter . 
Interested in creating your website like this?? Here is the step by step guide on 'How To Start Your Own Blog' for you. It super easy.