1. Fun Backyard Kid's Play Fort
Yes, it is entirely possible to build an irresistible children's play fort in a day. This too can make use of old wood, especially for the platform and the step ladder that leads up to it. As for the fort itself, white paint and a white and navy blue curtain that opens to reveal a sunny yellow interior gives it a summery feel.
2. Stacked Terracotta Pot Flower Planter
This is a project that will have people asking, "How did they do that?" These are flower pots connected in a way that makes it look like they're tumbling over. Moreover, most of them are planted with real plants and flowers that do perfectly well. A faux-birdbath in the top pot is a stealthy way to make sure every pot gets its share of water.
3. Summertime Wooden Cabana Lounge Chair
Constructing a cabana lounge chair in a day seems like a challenging project, but it's not really. The trick is to having a saw that cuts on an angle to create the slight slope of the seat. When the lounge chair is done, take it out to the poolside or the deck, add a pillow or two and a blanket and a cool drink and enjoy.
4. Elegant DIY Mediterranean Porch Half Wall
A half-wall is just the thing for a deck or patio that is raised enough above the ground to make it a bit of a hazard for children, pets and grown-ups who aren't looking where they're going. This half-wall has a pretty infill and elegant end caps. Plant flowers and shrubs just outside the perimeter to soften the look.
5. Easy to Make Outdoor Furniture
More good news is that outdoor furniture kits are plentiful, and most of them come with all the hardware that is needed, including nuts, bolts, nails and screws. The DIYer often doesn't need power tools. Mallets, screwdrivers and hammers are just about all that's needed to put together benches, tables, chairs and planters.
6. Recycled Cable Spool Umbrella Stand and Table
For people who have ever wondered what happens to those huge cable spools once they've served their purpose, here is an answer. They are turned into umbrella stands and tables for outdoor dining. Not only that, depressions can be drilled in them to hold colorful bowls. This means no knocked over soup or cereal when feeding the little ones.
7. DIY Fabric Covered Terracotta Pots
Though many gardeners find terracotta pots attractive on their own, it is still possible to cover them with fabric. This not only changes their look, but changes their texture. The fabric should be able to bear up to water and outside conditions if they're going outside and should be breathable.
8. Front Porch Wood Pallet Deck Project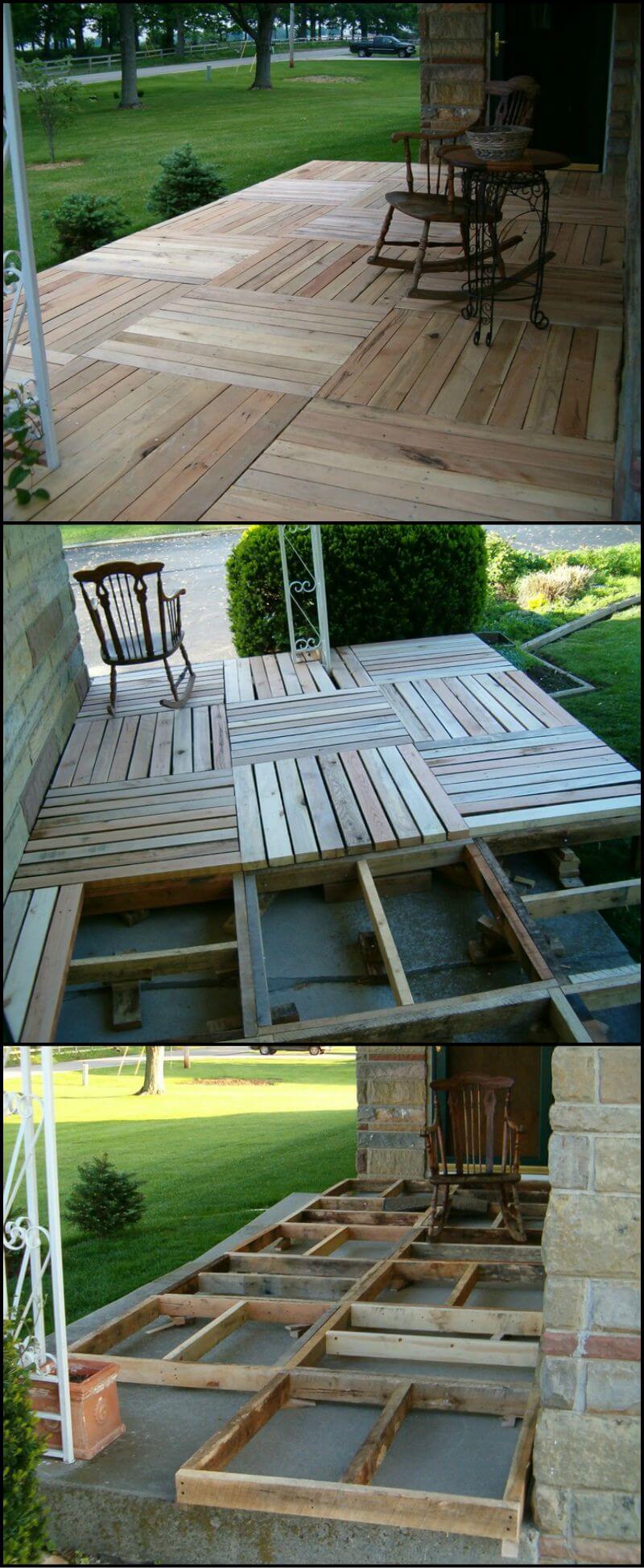 If the homeowner is tired of the beat-up look of their front porch, they can consider covering the floor with old wood pallets. These pallets cost next to nothing when they're collected from lumberyards and they need only a bit of trimming to fit on a nice sized porch.
9. Vertical Planting Wall for Small Yards
People with small or even tiny yards shouldn't despair that they'll never have beautiful plants and flowers. One solution is a latticed planting wall that can be made up in a day. Indeed, when the flowers start to boom from this wall it will look as much like a work of art as it does a planter.
10. Inexpensive Wooden DIY Hammock Stand
A yard that doesn't have a pair of sturdy old trees doesn't mean that the family has to forgo the pleasure of a hammock. Create a hammock stand that's just the right size for a good, store-bought hammock. Better than one placed between trees, this hammock can be moved around to take advantage of the sun or shade.
11. Instant Shade Backyard Umbrella Stand
Plunk an umbrella stand in a barrel of shade loving flowers for an extra pop of beauty. The flowers will not only be spared being scorched by the sun, but chairs can be placed around the umbrella to keep family members and guests from being scorched as well.
12. Recycled Glass Bottle Bird Feeder
Nearly every homeowner wants to attract birds to their yard. Fill an old glass wine bottle with seeds, and place it upside down in a cheerful, white painted feeder with a tray. As the tray empties, more seeds trickle down from the bottle. Make sure to secure the bottle with a metal strap.
13. DIY Metal Bucket Water Feature
People love the sound of running water. It is soothing and brings a feeling of cool even on the hottest day. But it's wrong to think that only rich folks can afford a fountain. A metal bucket water feature just needs a couple of old metal buckets that aren't being used anymore, a pump, some white gravel and access to the outside spigot.
14. Do It Yourself Wooden Plant Stand

Making wooden plant stands is the solution to the problem of leftover timber. These plant stands elevate the potted plants and make them stand out, whether they're in the garden or on the porch or patio. One tip is to put the plants in colorful pots and paint the last two inches of the plant stand legs the same color.
15. Backyard Pergola with Sliding Shade Canopy
Pergolas are amazing extensions of the house, but before the wisteria or the clematis cover it, the sun blasting own through the slats in the roof can be a problem. One solution is a sliding shade canopy. This is an easily installed system of hooks and pulleys that can pull the canopy back when the sun goes down, and pull it up when it's directly overhead.
16. Decorative Air Conditioning Unit Cover
Face it, outdoor air conditioning units are not pretty. One way to spruce it up, or frankly hide it is to build a box of wooden slats around it. The slats can be stained to make them attractive, but they should also be easy to move for the twice a year A/C maintenance and should not be so close to the unit that it interferes with its functioning. Put some pretty plants on either side of the box for more aesthetic interest.
17. Easy DIY Wooden Window Boxes

Making wooden window boxes is one of the easiest DIY one day backyard projects. The DIYer needs to make sure to put linings in the boxes before painting or staining them since the chemicals from paints, stains and preservatives can injure the plants. After that, the sky's the limit when it comes to what to put in the window box.
18. Bohemian Tree Platform Seating Area
People have been placing seats around trees for centuries, but this is not just a seat but a platform that can seat many people and hold their plates and drinks. It can even be a place for a nice nap in the shade of a favorite old tree. Toss some pillows in indoor/outdoor fabric over the platform for extra comfort.
19. Personalized Hanging Wooden Monogram Planter
For some homeowners, it's not enough that the number of the house is outside the door. To make a real statement, they install a monogram planter on that empty area of wall on the porch. The great news is every letter of the alphabet can be made into a planter, though those with curves and a tail — looking at you, Q — can be a bit challenging.
20. Hanging Bench One Day Backyard Project Ideas
There's something very calming about a hanging bench. It is very much like a hammock in that way, and a hanging bench on the patio is another easy to do one day project. Use strong rope to hang it from the roof, and add cushions and lots of pillows covered in colorful indoor-outdoor fabrics that complement the colors of the garden beyond.
21. Rustic Wood and Steel Rolling Console
Another project that is just the thing for planks of reclaimed lumber is a wood and steel rolling console. Everything about this project is inexpensive, including brackets, steel bolts and casters, yet the homeowner will probably wonder how they lived without such a convenient piece of furniture.
22. DIY Backyard Decorative Wooden Gate
Just because one doesn't live on an estate doesn't mean that the garden gates have to be uninspiring. Again, this is a project that ca use repurposed wood and old hardware that can be found in a salvage bin. If the DIYer is lucky, they may even be able to find a stunningly beautiful decorative grate for little money in the same place. It's the grate that makes this wooden gate special.
23. Rope Covered Recycled Tire Seats
Don't know what to do with those old tires and wary of taking them to the landfill? Make seats out of them. This is a project for the whole family to do on a Saturday in spring. Secure the tires with plastic ties then wind yards of hemp rope around them. In the end, there will be low seats just right for the kids.
24. Galvanized Beverage and Utensil Party Station
Take up less table space by adding this handy-dandy beverage and utensil station to your backyard barbecues. A central hub for all of the essential eating supplies makes it easy for guests to enjoy the amazing party you've planned. From individual buckets for cups, napkins, plates, and utensils, the large bottom tub keeps all of your drinks on ice for added refreshment. This is a top DIY project for upcoming reunions, graduations, cookouts, and any outdoor party on your list.
25. Prepping for a Perfectly Painted Concrete Porch
Over time, concrete tends to look less fabulous and lose its perkiness. There is hope for rejuvenating your porch with some simple cleaning and prepping in order to create a new look with some paint. You may choose to stencil some leaves or stones, but one of the best options is a painted rug. You'll add style and design in a way that's easy to clean!
25. Wooden Railroad Style and Gravel Garden Path
If you're searching for something a little more interesting than traditional stepping stones, consider some wood planks and gravel. Not only do these two weather-friendly materials get the job done, but they also make a nice and unique addition to your outdoor area. No matter if you are creating a long walkway from the garage to your porch or a small path to the garden, this combo is a quick and easy DIY project that you'll be sure to enjoy for a long time.
26. Pretty Pallet Repurposed Patio Lounging Loveseat
Those slatted pallets can easily be transformed into many easy projects, but this lounging loveseat is one of the best ideas! With a nice set of padded cushions, you'll create a relaxing comfort zone on your own back porch where everyone will enjoy resting. Lounging with your favorite book and beverage in hand is the way to enjoy the nice weather without leaving your home.
27. Decorative Hidden Crawl Space Wooden Box
Don't let a dull and dirty crawl space spot in your backyard drag you down. Cover it with this clever decorative wooden box that looks great and gives you a built-in backyard table for plants and decorations. The wooden box perfectly hides the imperfect look of exposed crawl space access so the focus is on your beautiful backyard like it should be.
28. Backyard Comfort with a Sun Shade
Stretched out to provide all the shade you'll need from the warm summer sun, this sail looks nice and offers a great escape from the blistering heat. It's the perfect choice if you don't have much natural shade in your backyard or need a permanent porch structure. Near the pool, this shady shelter would be nice for napping babies and anyone taking a break from swimming to enjoy a snack. While entertaining guests, your alfresco buffet would look amazing set out below this draping delight.
29. Classic Round Backyard DIY Paver Fire Pit
Everyone longs for those cool nights when sitting around the campfire is the goal. Make it a reality in your own backyard with this easy DIY paver fire pit. Not only does it look great, it takes up minimal space so it fits in nearly any sized backyard. Roast some hotdogs and toast up some s'mores no matter what day of the week it is since this backyard hot zone makes enjoying a comforting campfire possible anytime.
30. Galvanized Bucket House Number Yard Decor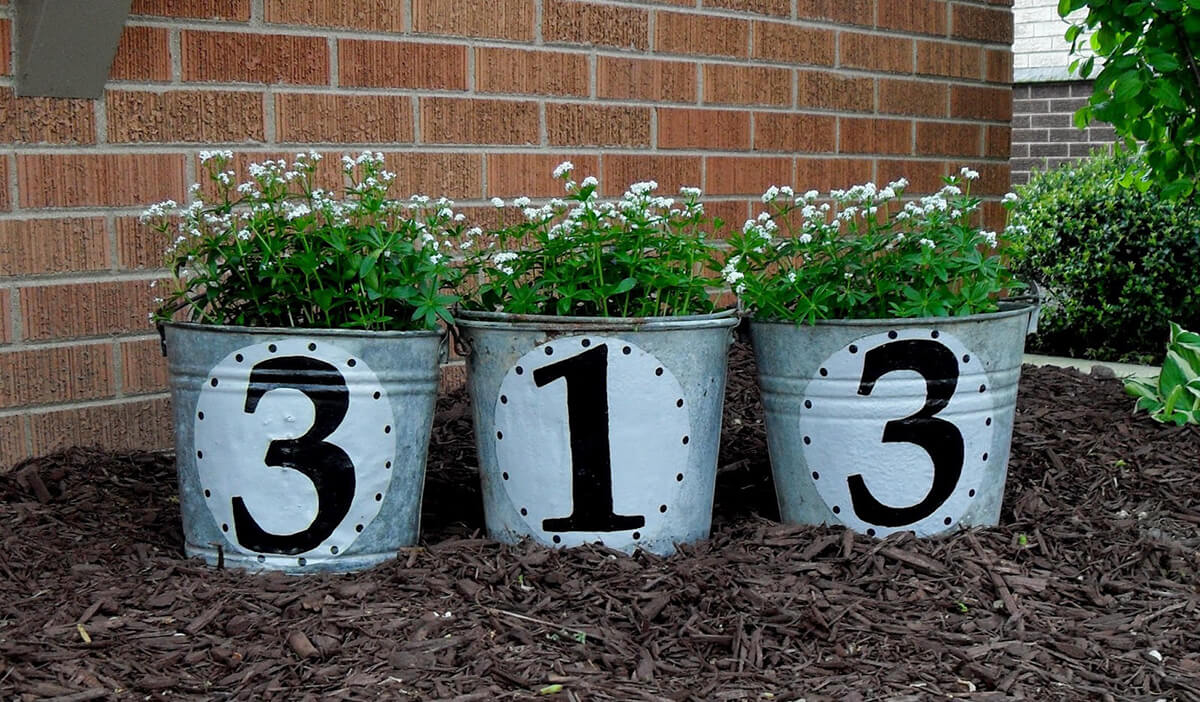 If you're looking for a new way to display your address in your front yard, check out this super simple tin house number display. You can customize with the paint color and design of your choice to give a personalized look that enhances your curb appeal. The added bonus is that you get a two-for-one project as you now have tins for planting your favorite flowers!
31. Rustic Wood and Stone Bench
What could be simpler than a heavy, leftover wood plank propped up on two pedestals made of three Belgian blocks each to form a sturdy yet comfortable garden bench? Placing buckets and baskets of white bizzy lilies around it softens the look and makes it a bit less monumental. Belgian blocks can be carved out of granite or concrete poured in a mold and allowed to set.
32. Easy In-Ground DIY Brick Fire Pit
Don't know what to do with those old bricks? Turn them into a fire pit. Dry lay the bricks then use paint or chalk to draw a circle around the soldiers. Dig the hole within the circle and install the bricks at the bottom in a clock-like pattern, the soldiers and the brick edging on top of them.
33. Simple Walkway Clematis Climbing Trellises
Few things are as simple to build as a trellis, so why not make more than one? A great place for trellises is a wall of the house or garage beside a walkway, and a great flowering vine to train up the trellises is the clematis. This amazingly versatile vine has big flowers of nearly every color.
34. Wooden Poolside Towel Hanging Post
People who are enjoying a swimming pool can always toss their towels on the chaise lounge, but a poolside hanging post is much more elegant. Again, the post can be made out of a long, leftover two-by-four and stabilized in a pretty ceramic pot filled with cobbles. The iron hooks and the cap are inexpensive to buy and can be installed in a jiffy.
35. Backyard Picnic Table Dining Area
A homeowner can find an old, rustic picnic table from a salvage yard. But there's more. This picnic table is illuminated by Edison lightbulbs strung between two bare birch trunks. The trunks themselves are cemented into plain pots at either end of the table. Add some votive and pillar candles, and the setting becomes the ultimate in twilight dining.
36. Plain and Simple Outdoor Wooden Barstools
If you need a place to sit and sip or simply enjoy your meal outdoors, these plain and simple wooden barstools are a great choice. They easily slide under your bar to take up as little space as possible on your porch or patio. You could also move them near more comfortable seating to use as a small table for resting your drink.
37. Reclaimed Wooden Porch Swing with Thick Rope
Just when you thought you couldn't enjoy the front porch anymore, here comes a beautiful wooden swing that offers the best seat outside the house. The classic styling of the crossed sides and back gives more character to this swing that's anything but ordinary. Thick cushions create a cozy nook to sip sweet tea or read a book. And kids from young to old will enjoy the summer breeze as they take a short break on this splendid swing.
38. Decorative Backyard Leaning Plant Ladder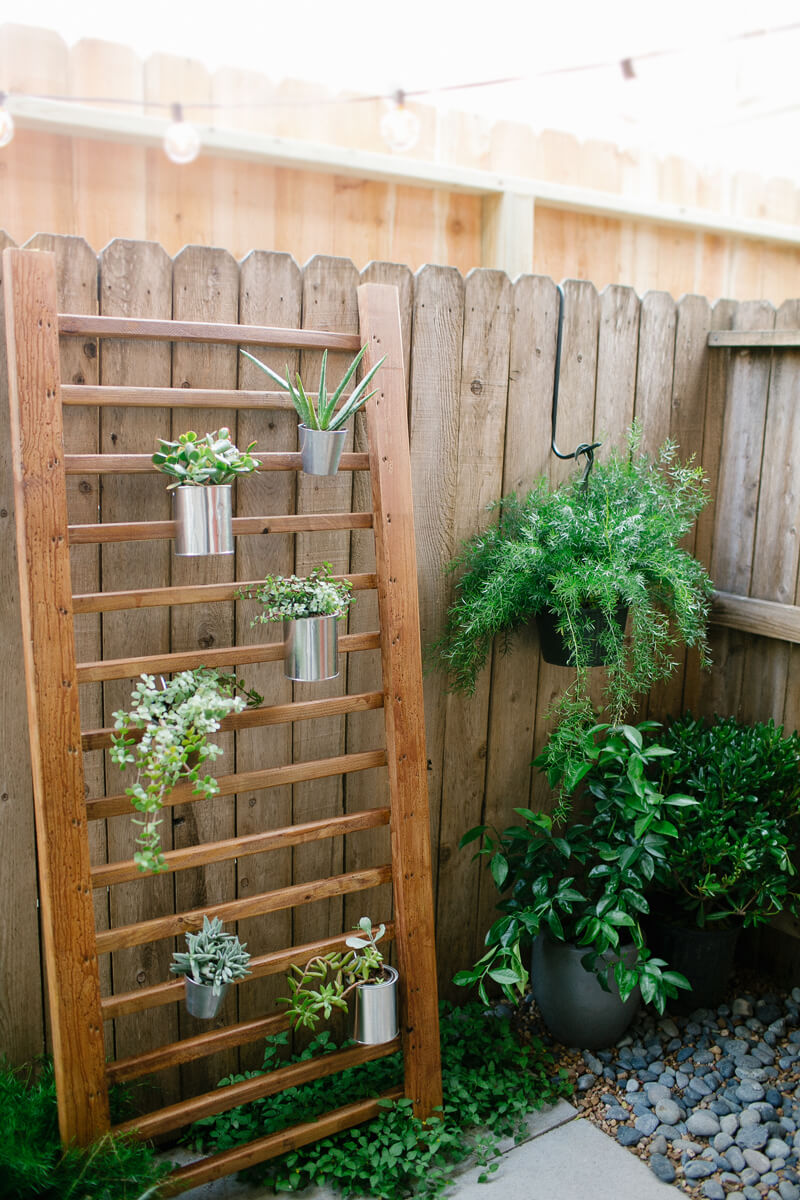 All of your tiny potted friends will enjoy this decorative plant ladder. Gently lean it against your fence, shed, or porch and delight in the lush greenery all season long. With enough slatted rungs to hold as many plants as you need, this creates a gorgeous place for an herb garden or succulent party pad.
39. Backyard Oasis with a Stock Tank Pool
Creating a space you love begins with materials that fit your style. Most of us aren't fans of the traditional kiddie pool with its unsightly looks and small space. Instead, roll up your sleeves and create a pool everyone in the family will love. Reimaging a stock tank, this backyard oasis comes to life as an on-site modern watering hole. Not only is it a great size for splashing by both kids and adults, but it also looks great as it seamlessly blends into your existing design style.
Why should your living space end once your feet hit the ground? Continue it by extending your home and favorite living space into your backyard. Designate zones just as you would room on the inside of your house. This amazing DIY wood and granite console table is the perfect start. It delivers style and function just as its interior counterpart. Enjoy your outdoor entertaining as you use this console to hold drinks, candles, and finger foods.
41. Wonderful Wood Outdoor Planter Boxes
Fill up space on your deck, porch, or patio with an array of these charming wooden planter boxes. It makes adding flowers to your exterior space so simple. After creating your box, you can simply slide in the plant (still in the pot) to make a clean creation. Set one beside your seating area, near the steps, or on the sides of your garage door for extra charm, and watch your flowers grow!
42. Pop Up Portable and Adjustable Greenhouse
Make the most of your space with this efficient and effective personal greenhouse. Constructed with wooden shelves that are adjustable, you can change them up as needed as your seedlings grow. This makes a perfect place to start your seeds before transplanting them into your gardening space.
43. Brick Lined Flower Bed Edging
Create a neat and tidy flower bed with the help of sturdy brick-lined edges. Your growing flowers and plants eventually need more room to expand, so this additional space will work wonders for your leafy friends. Finishing the look with clean edging in the form of bricks creates a neat and defined space. The result is a custom landscaping look that's easy enough to do yourself.
44. Weekend Warrior DIY Patio Storage Box
What's not to love about a fun weekend warrior project that provides loads of outdoor storage in a stylish solution? This classic patio storage box is crafted with a painted white finish that looks fresh and new and will instantly add style to your backyard. Add a cushion to the top and this storage box quickly doubles as bench seating for your guests. Keep all of your cushions out of the weather by stowing them inside this box or use them for other outdoor items.
45. Jenga Inspired Wooden Slat A/C Unit Disguise
Cleverly hide your unsightly central air unit with a wooden slatted work of art. This interesting square conveniently keeps your A/C unit available for airflow with its slatted construction while keeping your patio stylish with its artistic design. Your unit will be out of sight and out of mind while entertaining guests as it effortlessly blends into your existing outdoor decor.
10. Gorgeous Wood Plank Outdoor Ceiling
Finish off your outdoor living space on the porch in a manner that's just as polished as your interior. The gorgeous grains in this wood plank ceiling add so much beauty and warmth to your porch, you'll never want to leave. Hang a ceiling fan or decorative lighting fixture to further enhance the mood as you hang out in your new favorite spot.
46. Easy Industrial Contemporary Bench in a Day
Add some seating and do it with style in this quick and simple one-day DIY project. Each concrete block and wooden bench comfortably holds 3 people, so make as many as your seating needs demand. There is plenty of space between each board to provide adequate drainage when rainfalls. The clean and sleek look is perfect for the modern backyard.
47. Contemporary Concrete Top Patio Table
Get a look that's one-of-a-kind with this concrete top patio table. Continuing with the trendy concrete countertops in the kitchen, you'll enjoy the look and durability of this for use in your backyard space. When molding it, you could include a central hole for a large umbrella if your heart desires to. Put your stamp of approval on this interesting and unique patio table today.
48. Fabulous Faux Wood Carriage Garage Door
One of the easiest ways to update a look is with paint. Your plain and dated-looking white garage doors can completely transform the look of your home and dramatically increase your curb appeal. With some simple painting techniques, you can achieve a rich and rustic wooden look complemented by some black iron handles for a more detailed design. This is the perfect way to freshen up the exterior of your home without spending a lot of money. Use the same concept on your shutters and tie the entire look together.