Yummy Soft Delicious Cake is a "gift from god". Do you agree with this? 
Well, at-least I believe so because cake is my week point.  Are you also a fan of mouth-watering cakes and want to try it by your own?
Cakes are great gift to give to someone especially during the holidays. And you can take your home made cake to entirely next level by adding some extra appeal and easy decoration.
For a random party preparation these cake ideas will not only save your time but delight your guests too.
Our collection of 24 DIY easy cakes includes everything from chocolate cake, hot pizza cake to fresh fruit cakes.
Warning:  This DIY cake collection is too sweet to watch and equally delicious not to miss.
1.) DIY No Bake Delicious Kit Kat Ice Cream Cake
Source
2.) DIY Fab Pink Zebra Cake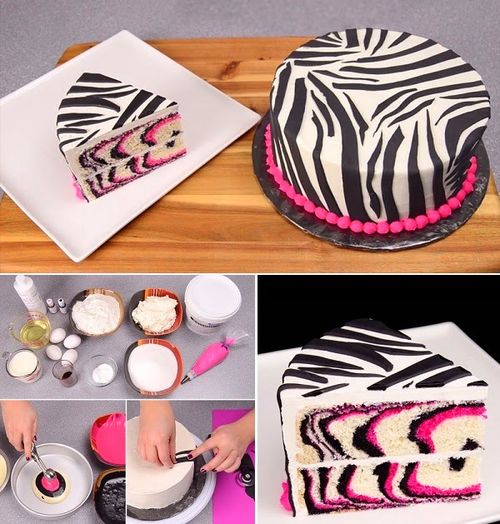 imgfave.com
3.) DIY Candy-Filled Surprise Soft Cake
Source
4.) DIY  Beautiful Retro Cake
Buzzfeed
5.) DIY Marble Effect Chocolate Cake
imgfave.com
6.) DIY Pepperoni Pizza Cake
imgfave.com
7.) DIY No Bake Fresh Fruit Cake
Source
8.) DIY Delicious Scandinavian Sandwich Cake
imgfave.com
9.) DIY Fairy Baby TV Mushroom Cake
imgfave.com
10.) Colorful DIY Candy-Filled Rainbow Cake
imgfave.com
11.) DIY Delicious Swedish Sandwich Cake
imgfave.com
12.) DIY Soft Cake With Design Inside
imgfave.com
13.) DIY Deep Dish Layered Lasagna Timpano Cake
imgfave.com
14.) DIY Easy and Quick Orio Biscuit Cake
imgfave.com
15.) DIY Fresh Starry Watermelon Cake
Buzzfeed
16.) Yummy  DIY Swiss Roll Cake With Giraffe Pattern
imgfave.com
17.) Wonderful DIY Edible Cake Teapot
imgfave.com
18.) DIY Soft Colorful Mutilayer Slice Cake
imgfave.com
19.) DIY Romantic Heart Cake
imgfave.com
20.) Adorable DIY Super Cute Owl Cake
imgfave.com
21.) 
DIY Chocolate Lace Flower Cake
imgfave.com
22.) DIY Rainbow Tie Dye Wreath Cake
imgfave.com
23.) DIY Creative Christmas Wreath Ckae
imgfave.com
24.) Wonderful DIY Amazing Chocolate Stripe Cake
imgfave.com
When you want something sweet but unfussy, go for an easy cake recipe. 
Share these deliciously creative easy cake recipes with your friends on Facebook by clicking on below buttons.