10 DIY Clever Space Saving Ideas and Storage Solutions: Part 2
Many of us often face storage problems.
All ladies just love shopping so sometimes we don't have enough space for all our stuff.
As a traditional instant solution, we spend a lot of money for buying extra closets and storage items.
However this solution may not be suitable for the people those who live in a small house or apartments.
But have you tried any money saving easy to do DIY storage ideas?
Luciky we have found some cleaver and simple space saving storage ideas for you.
Hopefully, some of these tips will help you in your way to find room for everything.
For step by step instructions please follow the links provided below.
Have happy time here. Enjoy. Cheers!!
1.) Use Shopping Bags
Check out the full DIY tutorial HERE
2.) Organised underwear drawer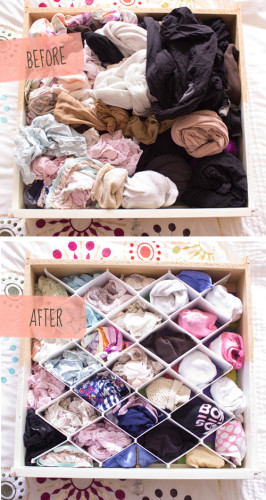 Check out the full DIY tutorial HERE
3.) DIY Clutch Organizer
Check out the full DIY tutorial HERE
4.) Modern Yarn Storage Idea
Check out the full DIY tutorial HERE
5.) Hanging Jewelry Organizer
Check out the full DIY tutorial HERE
6.) 10 MINUTE MARKER CADDY
Check out the full DIY tutorial HERE
7.) DIY Playroom Stirage Idea
Check out the full DIY tutorial HERE
8.) DIY Ribbon Organizer
Check out the full DIY tutorial HERE
9.) Fancy Bird's Nest of Toys
Check out the full DIY tutorial HERE
10.) DIY Mason Jars Bathroom Storage
Check out the full DIY tutorial HERE
You May Also Like: